7 Jul 2019
Catalunya roadtrip
This trip come to being in last minute. In fact, about our leaving for one week, we just decided 10 days before departure. But it is already a habit in our family. We opened Norwegian website and it was clear enough – Barcelona Olé !
The disadvantage of ticket, that we didn't realize at first, was a departure at 6:45 AM, what meant for us to pay a crazy money for a taxi or use the public transport at 4 AM in the morning. Matěj did it perfectly (we can even say without whine). Father few times almost collapsed and mother has slept for almost whole flight.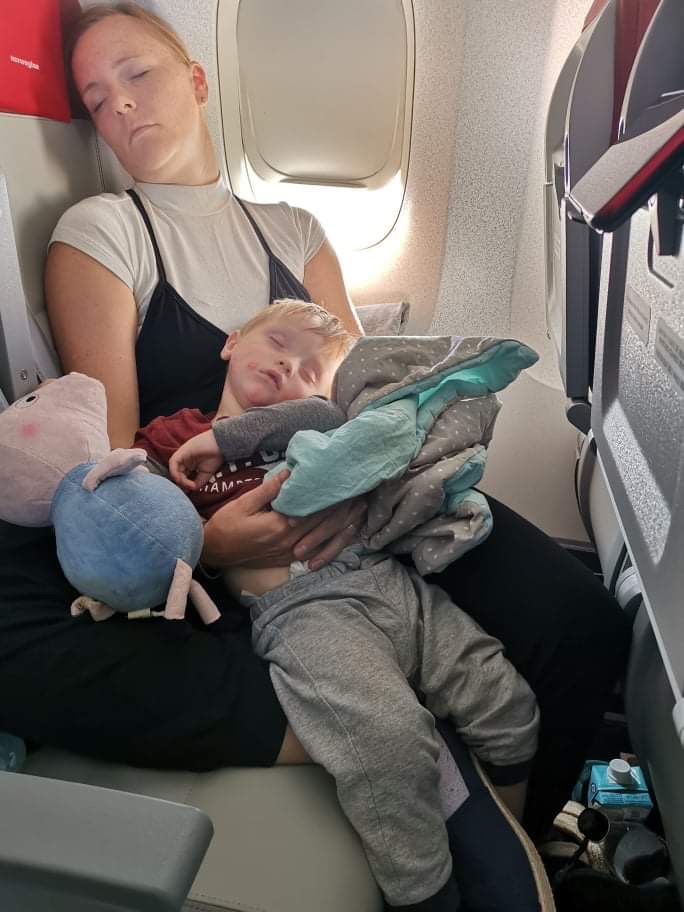 Day 1 – Tossa de Mar
Given that this vacation should be used to a relax, the idea to stay 6 days spending in a big city with our lord, was something behind the edge. That is why we decided to rent a car for 4 days and drive to a beaches of Costa Brava and for the rest 2 days return back to Barcelona.
After landing on Barcelona airport, we went through standard etude of rental car service – this time we borrowed Citroen C4 Cactus (the most ugly car that we have ever drive). The main difference between rental car in Norway and rental in Spain is that in Spain, they are trying to rip you off at every corner. And eventually they succeed. For overlooking a note, that the deposit must be paid with credit card not debit card (as we though), we overpaid 60€.
Thanks to our early arrival to Barcelona we left at 11:30 to our hotel in Tossa de Mar village. We came around 1 hour so we had whole afternoon ahead of us. The journey from airport was only through highways (toll circa 10€ and we exit down to Tossa.
The accommodation was provided through booking.com in Marina Tossa. Small hotel with a wonderful price. It was standardly south-styled tiny hotel with a fine pool in the area and was situated slightly to the city centre. The price also included half-board, which we tried for a first time and with kid it is perfectly ideal.
After check-in, we didn't lose time waiting and went straight to the sea. The journey was so long that we couldn't wait to get the sea and the sun. The rough sand a bit surprise us. It was even hard with wearing boots and water temperature was just for "Hardy". Daddy (from the middle Czechs) challenged himself and mother (from mountain city Liberec) just dipped her leg into it and run to warm up to the warm sand. Matěj has found a big puddle and with a total lack of interest in the sea just played there.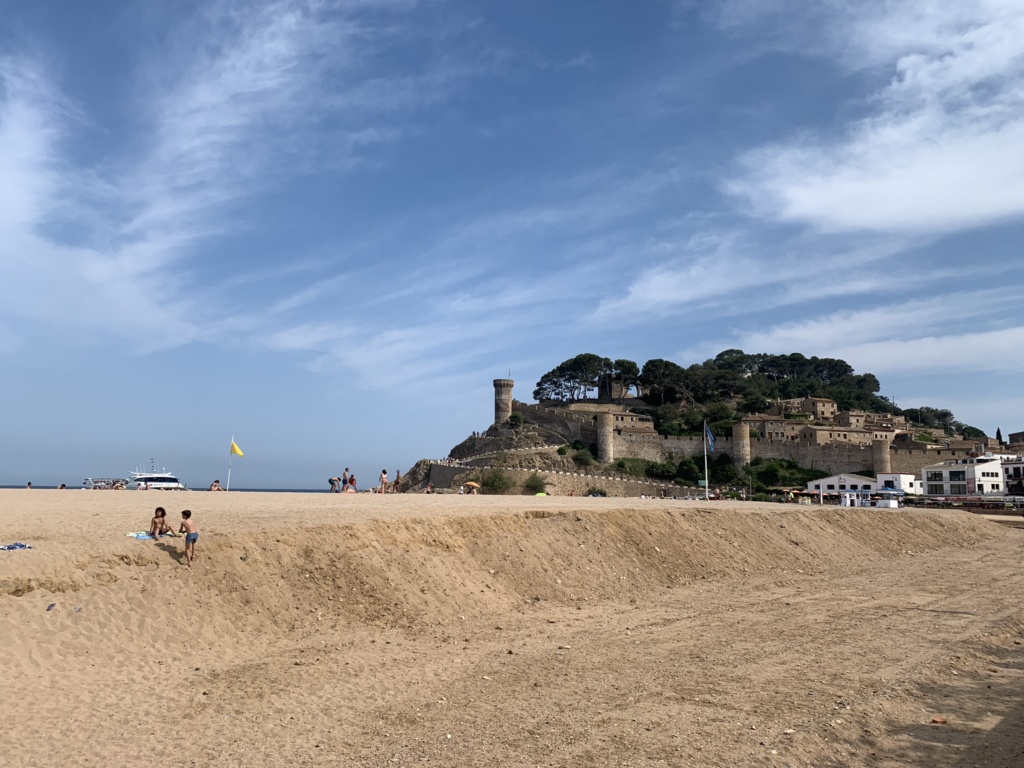 Tossa de Mar is a village known mainly for the castle, which is just above the beach. We ware excited even from the walk to the sea. The smell of seafood, roaming Russians around, sea and the magnificent castle, that you can watch for infinite time.
Tossa de Mar
After returning, we put Matěj to his bad with a strong feeling that we should go to bed too. As soon as he asleep we immediately run to the hotel bar. Although Miguel beer is not a Pilsen Urquell but when the kid is sleeping and the price is only 1€, you don't have time to speculate about it.
Day 2 – Girona
Tuesday – the only day that we had an unpleasant rainy weather forecast. So we planned a trip to Girona. Town which is approximately 50km far from Tossa. It has beautiful historical centre and for them who knows, there was filmed 6. series of famous "Game of Thrones".
Driving was without any issue, the wipers chased and our mythical cactus was perfectly working too. We decided not to worry with finding a cheap parking lot. Due to the rain, we chose one of the public parking house in the centre (price was 1€ per hour, which was quite acceptable for us and saved a lot of worries).
When we got out of the car, it was raining cats and dogs. It seemed to me that the rain was even graduate during the whole day, so we enjoyed our Spanish holiday like a real Norwegian – the buggy was covered with raincover and we also worn raincoats.
Girona – view to Eiffel's bridge
We ware lucky that we ware traveling in the pre-season, thanks to that, we walked through the city almost alone (we can also say "thanks to the strong rain", because all the smart people ware drinking in local bars). Despite a small accident (an hour Matěj's long cry, probably because of the tummy pain, in the middle of the rain) we ware really excited from Girona.
After that unpleasant incident, Matěj has started to be tired. While the little gentleman changed clothes, let himself to put him into the warm stroller, we (totally soaked) walked around the whole historic city center. The city is one of the center of Catalan's proud, so there is no lack of beautiful tiny streets and of course the main street, where are all the houses are colored in colors of Catalan's flag.
And finally – the food!. According to a recommendation from one of the waiters from local pub, we went to Restaurant that serves a traditional Paela and sea food. It worth it. For a price compared to a fast food in centre of Oslo, we got a plentiful feast, which compensate us the rain and Matěj's cry. Although, our foot warm a bit up, we felt how the organs are slowly appearing on them.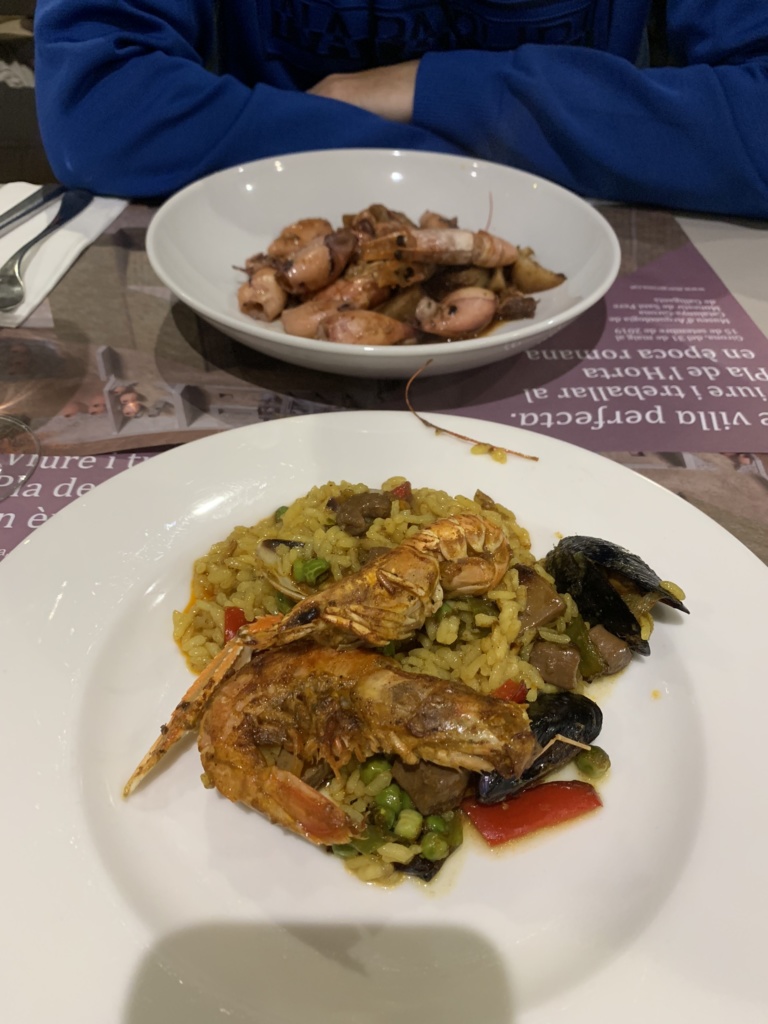 When Matěj woke up, it was time to give him some place to play and run. The receptionist in Tossa recommended to visit a city called Salt, which is about 12 min drive from Girona. There is a big shopping centre which include a kid's playground. We all ware soaked, so even the shopping centre sound us as a good idea. We have to say that shopping centre are mostly places that we are trying to avoid them (says daddy). So we went there.
The evening spent how else then in hotel's bar.
Day 3 – Lloret de Mar
Day 3 – Beautiful weather again. So let's go straight to the sea, before we move to Barcelona. The beach unfortunately didn't include the little puddles as yesterday, so we referred Matěj directly to the huge cold puddle.
One lady in retired age proposed us, to take a family picture on the beach. I don't like begging people for that but if somebody offer, why not to use it, right? It is a unique chance for mom to be on a picture other way than as on their own selfies…
What a pity of that finger, which is over most of the pictures. But 2 of them are alright. 😀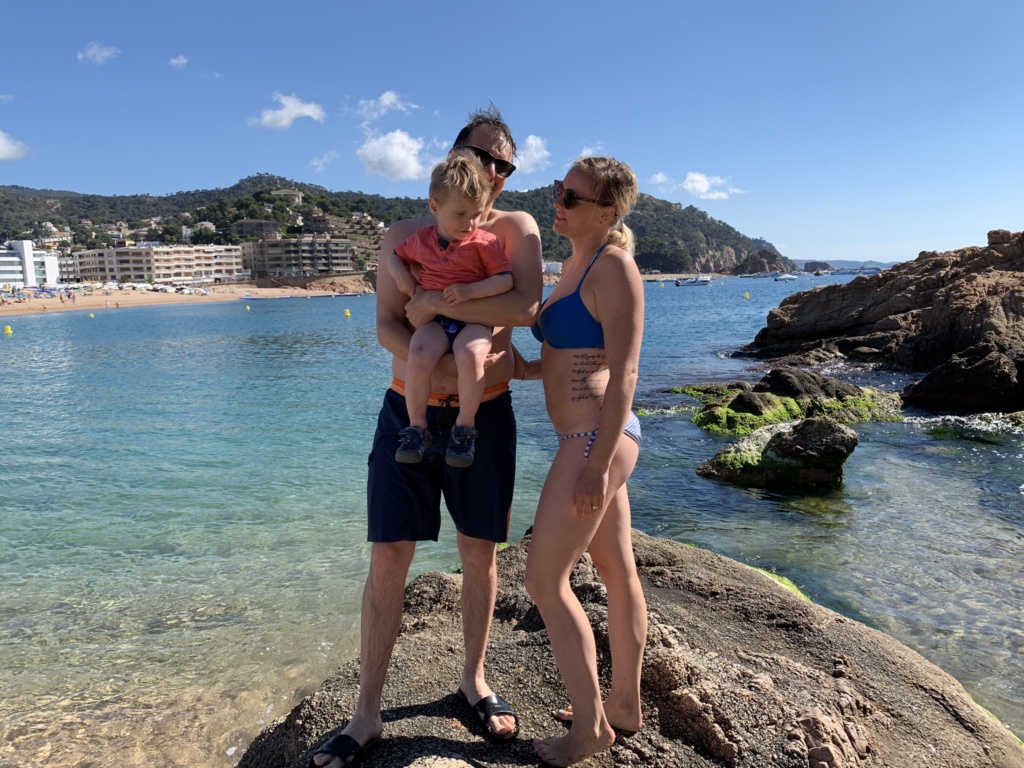 After a short cold bath with using bucket and shovels bought successfully in Girona, we decided to go to a historical city again. It is so magical and it can be walked through few hours. Even though the sun was shining beutifully and ice cream stalls just opened.
When Matěj woke up after 2 hours sleeping as a royal family member, we put him into the car and drove to Lloret de Mare. It was about 15 minutes drive. The target was perfectly clear – Kid's waterpark in Gnomo. We knew there is chlorine water but even though we wanted to make Matěj happy.
For the entrance fee 9E (paying for the kid only) we enjoyed a lot of fun. I must say that it is mostly for older kids because there you can find a great rope centre. For Matěj used only as an inspiration.
Before leaving we stopped by local restaurant for pizza and coffee and by that occasion we asked the waitress if there is any sand beach nearby. We got a recommendation to visit fantastic beach called Santa Cristina, which was about 2km far from that park. After short detour, we agreed to visit it the next day.
On the way to the park and also the way back, we could have seen Lloret de Mar from the car window. This is how looks like summer hell for us. Big, ugly town full of giant apartments block, hotels, casinos and restaurants. We ware happy that we chose to stay in a small, authentic and historic village.
Day 4 – Moving to Barcelona
Our moving out day. We must moved our things until 11:00. Our plan was to do it sooner. We didn't want waste much time at the hotel and rather go the the beach we discovered yesterday and then drive to Barcelona. It is better to have as much more time as it is possible.
Beach at Santa Cristina was wonderful. If we ever travel to the same destination with a small kid, I would definitely go there. Nice sand lagoon with sea that was clean as we saw on Seychelles. And at this time with only a few people.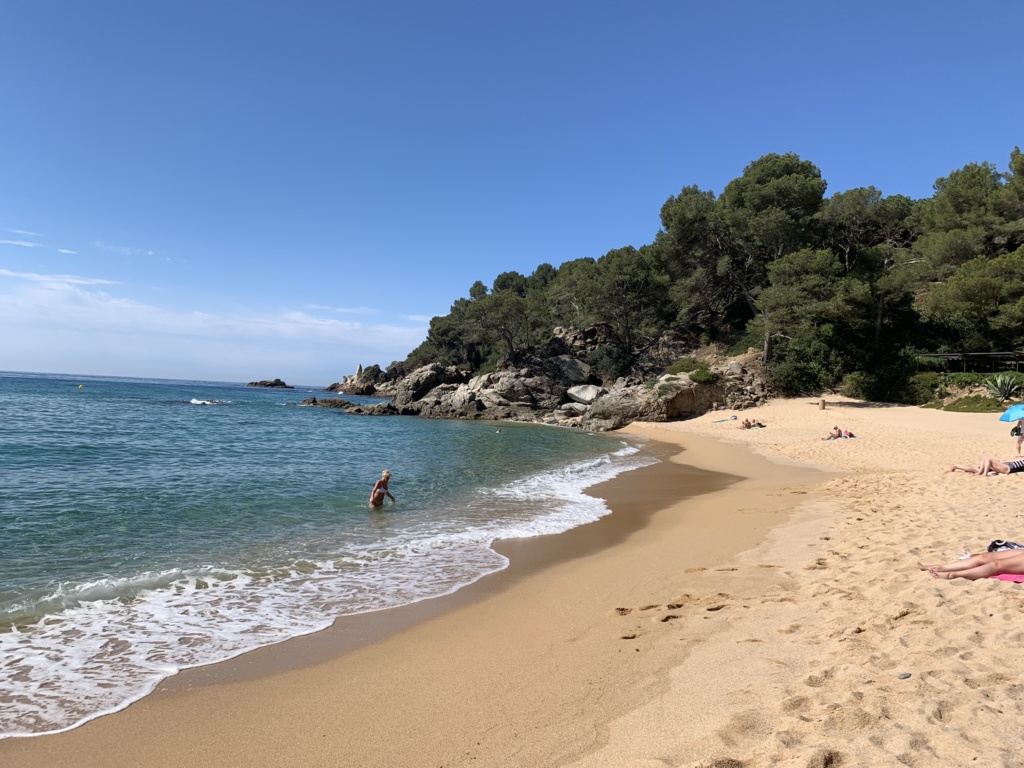 Although we really fell in love with this place, we ware also excited to see Barcelona and the real Spanish life.
The drive back took us only an hour. In the end, we got a little tangle in the chaos of the city when we tried to park in the overcrowded streets of general traffic chaos of Barcelona. We figured it out that mama and Matěj went to check in to the hotel and daddy (close to his heart attack from the traffic) drove out to return car to the airport.
Right after we checked in the apartment (for 6 people) we went directly to the city. Not so far from us was Park Güell. The first gem, which you can't missed in this city. Daddy was there around 3 times, so we went there alone and had enough time to cross it from one end to another.
It was completely irrelevant that we are here in the pre-season because in Barcelona are tourists all the time. Thanks that Matěj is still a cute kid which is still laughing, so all the tourists smiled at us and rather stayed out of our way.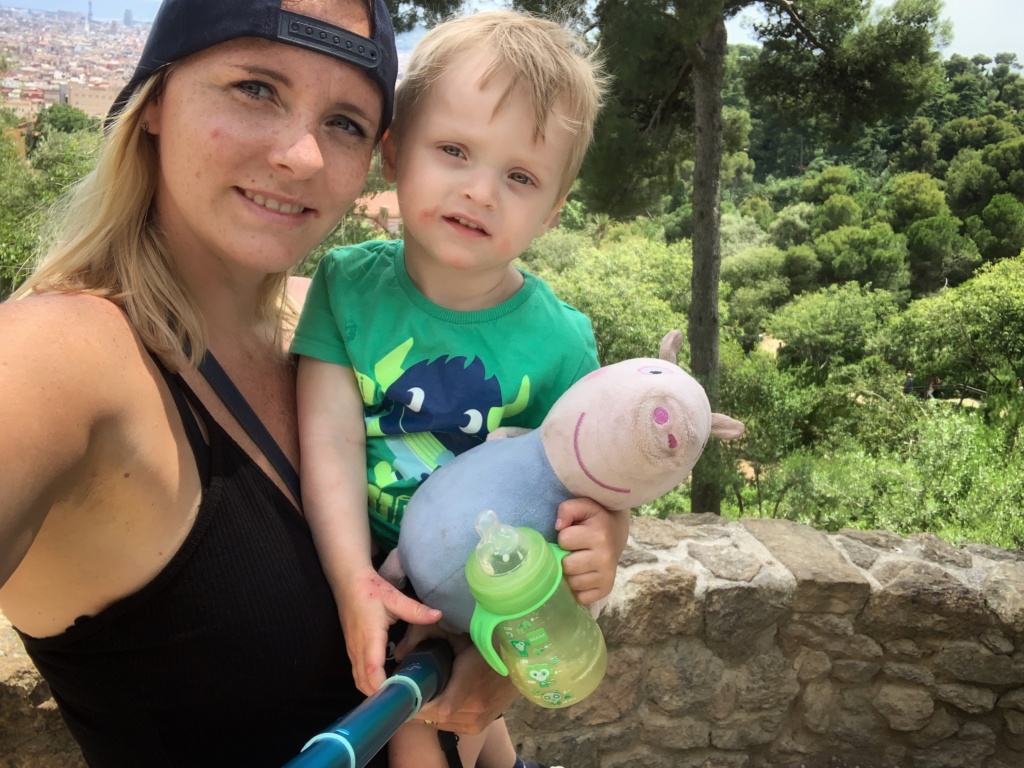 Until we left this monumental place, daddy found us. We got a half hour chill in local playground and than we went finally towards to Sagrada Família.
Mama: The bonus is that I already stand behind it but I was looking on the building in front of me (see the following picture) and wasn't turning back to look that Sagrada stand just behind my back.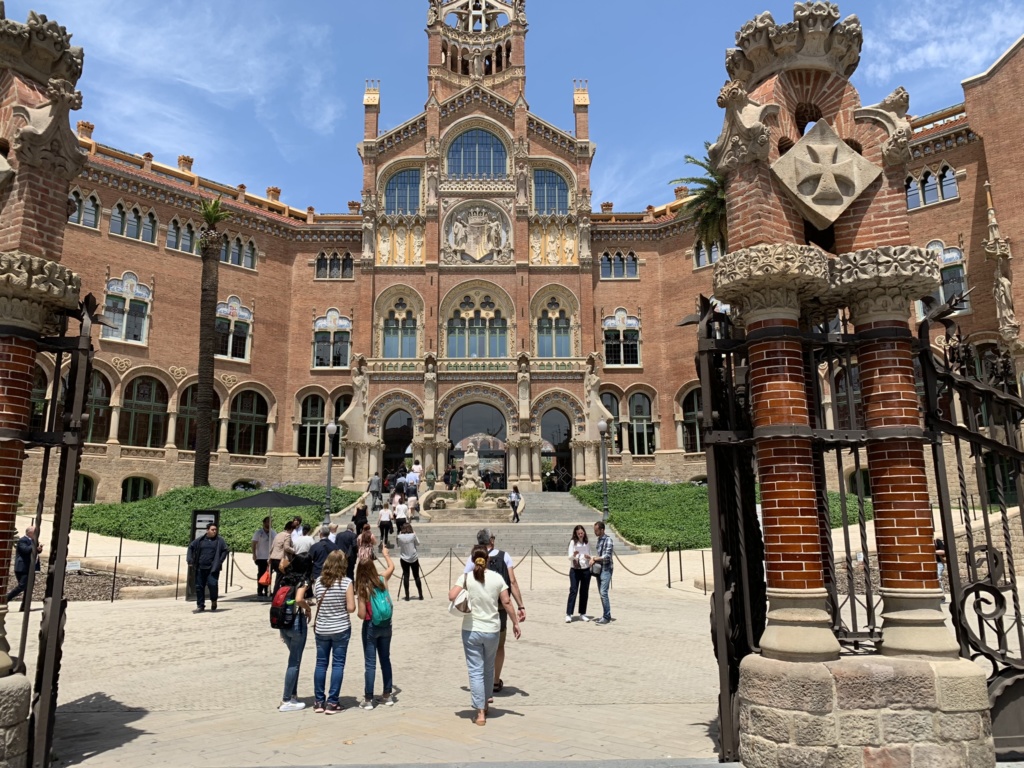 We ware coming from other than the main street, so the entry looks more like an park. At the first moment i was already planning to pick up Matěj from the stroller and let him run around the park until Petr warned me to raise my head and see where we are. Than I realized it.
Óoo god, it is really powerful building. You get the feeling that if you don't have kid with you, you would have been sitting here and looking at her all the time. Sagrada Familia, building (the temple of the holy family), which is still not finished. They build it from the public money. Just the money they collected from the entry fee, exactly like Antoni Gaudí wished and it is dated since 1882. This sight is on the list of UNESCO the world heritage and it is also the most visited place in whole Spain.
So here you go: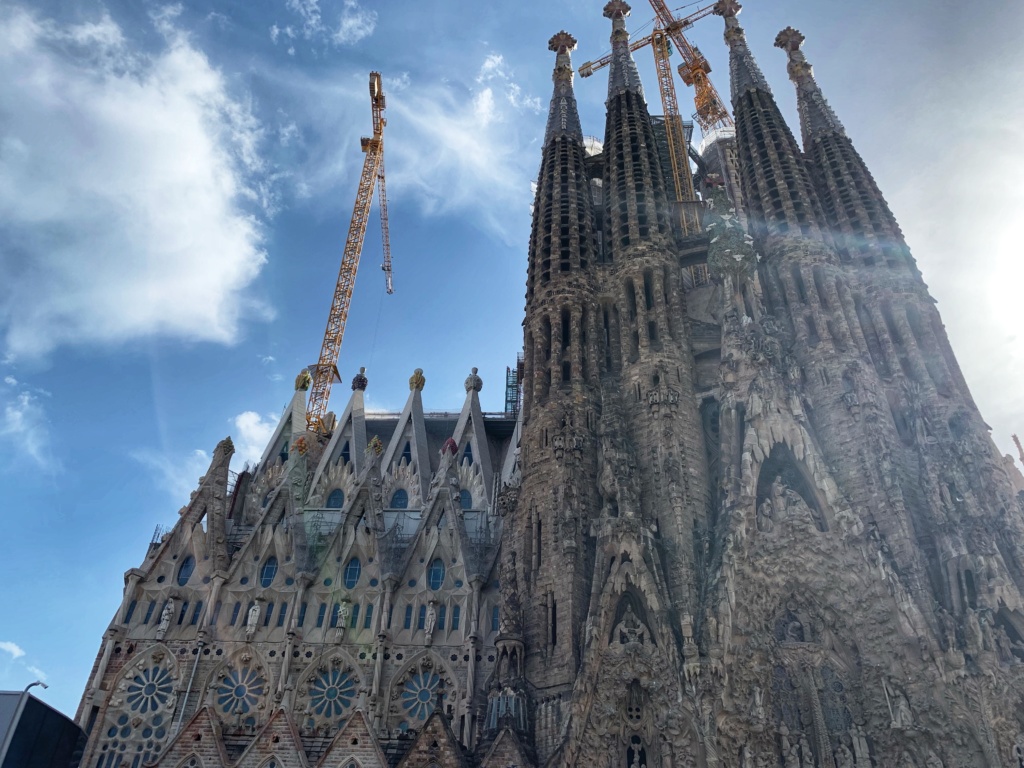 The great thing is, that just next to Sagrada, they built playground for kid's (just like Matěj) so he could play there because, we must say, he doesn't care much about sights yet.
We were just looking at it for a while and than we decided to move on and enjoy the day as much as we can.
The big advantage was, that Petr was in Barcelona before, se he didn't have to look into a map and almost every time knew, where to go. We (me and Matěj) ware still following him as sheep. The next station was the Triumphal arch at the Monumental station.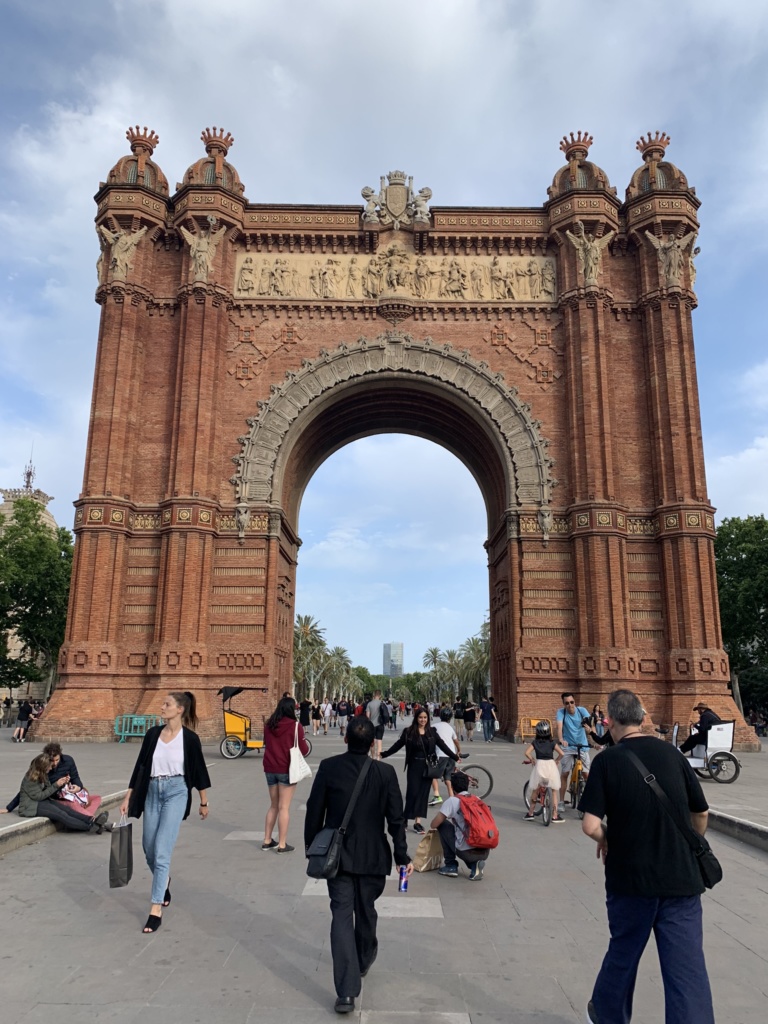 It was quite enough for one day. So it comes time to go home. Comparing to Oslo, there is less grocery shops, but finally we bought some base for Spanish dinner, that we made in the comfort of our apartment. The program of vacation with child is much different than in our younger years.
Day 5 – Barcelona (The old town)
Every room has dar curtains, so Matěj woke up around 8 in the morning, which is not a standard on vacation.
We didn't make any breakfast at home, we wanted to buy it on the way. Town, where people always eat croissants and drink coffee on every corner can't disappoint us. The city didn't, it was just our own natural characteristic, that we ware waiting for anything better, until we became more hungry and still had nothing. We bought something at Placa Catalunya.
I don't want to write essays, but we took it following:
La Rambla – here we finally bought something for breakfast
Plaça de Catalunya – here we met a guy who peed in the shrubs on the square and also Japanese tourist which ware amazed to meet a huge amount of pigeons. We rather went away
Mercado de La Boqueria – we bought fried, breaded seafood. It was emm Delicious! (We really recommend to visit this market place)
Plaça Reial – chill with Matěj and a pleasant sitting
Plaça Portal de la Pau – monument, in excited mood to see the aquarium, we just took a picture and kept going. There was several schools approaching us with the same direction
Barceloneta – we stand just on the edge. We heard that the beach is not so beautiful.


Placa de Catalunya

La Rambla

Mercado de la Boqueria

our snack

Mercado de la Boqueria

Plaça Reial

Plaça Portal de la Pau

Barceloneta

Barceloneta
Long day. Matěj still wasn't sleepy. So we chose the tactics to get him tired maximally and go to the Barcelona's aquarium. The aquarium was a bit disappointing for Matěj because everything was protected to a direct contact – which of course make a sense but not to Matěj's. Anyway aquarium definitely worth it! On the end, there was huge children's area so Matěj could run with other kids. Exceptional option to dive with a great white shark, in a metal cage, we finally didn't used.
On our way towards to next point, we bought some ceramic souvenirs in tiny authentic shop, where the Catalan grandpa really create something, not only sells factory products. The shop is in the same street as Gaudí's house Palau Guell.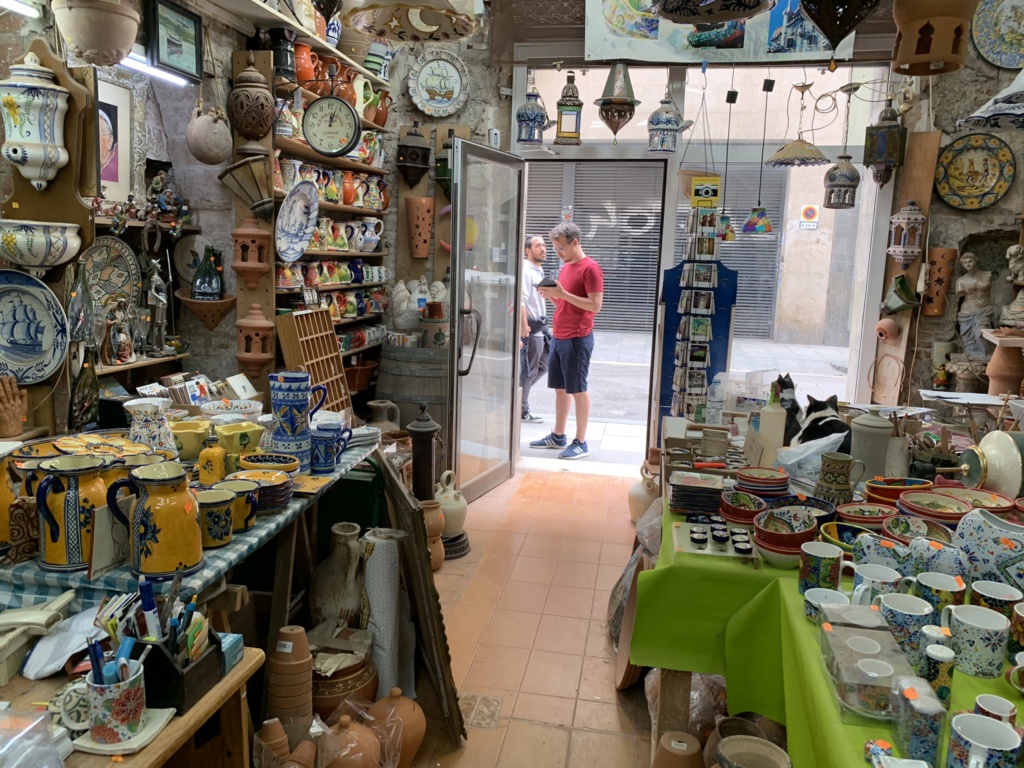 So as you figured out, the next point was Palau Guell. Just because we wasn't inside Sagrada Família, I wanted to visit at least one of Gaudí's houses. Peter propose to wait with Matěj a try to sleep him so I could go inside and walk it through. And other advantage was that there was no crowds waiting to go in.
While mom walked through the house with fantastic architecture, the rest of the family enjoyed square Garribaldi nearby. When mom had returned, we asleep Matěj a bit on strength. We could finally enjoy the old town and the gothic quarter, which is the most picturesque part of Barcelona and at this pre-seasonal time, it wasn't overcrowded.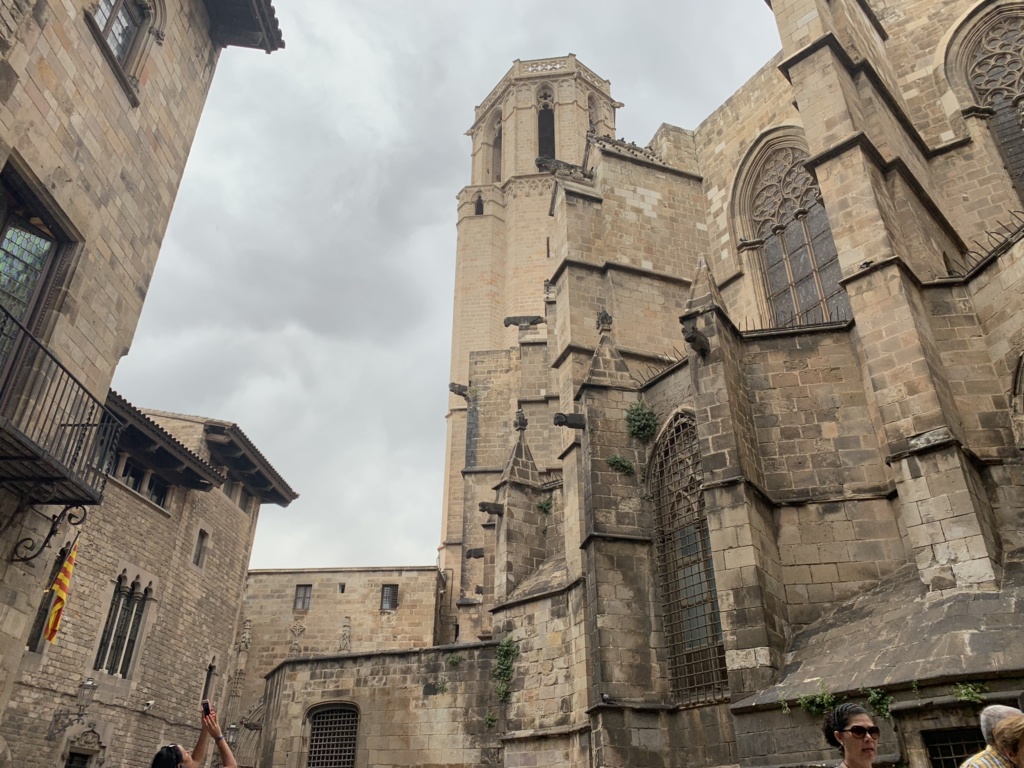 According to a number of total footsteps and the increasing stifling we decided to walk home. On the way we met another of Gaudí's houses, this time, we only admire it from outside.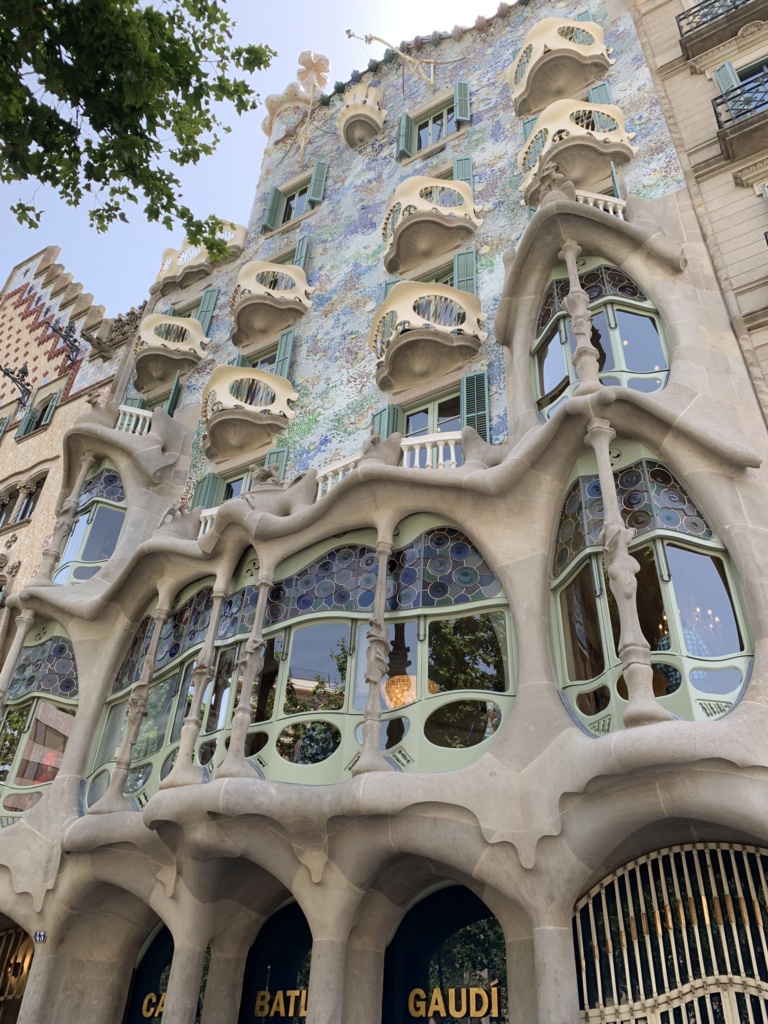 We had to keep our little resolution that we would not spur this holiday again. We only wanted to keep it calm and relaxing. At the hotel room we made a late lunch (this time based on great Spanish sausages and salad).
Our afternoon stop became, once announced, Hospital La Pau, which was just a few blocks from our apartman. By the way it is also on UNESCO World's heritage site.
Beautiful area which is working as a hospital and as well (a part of it) as a museum.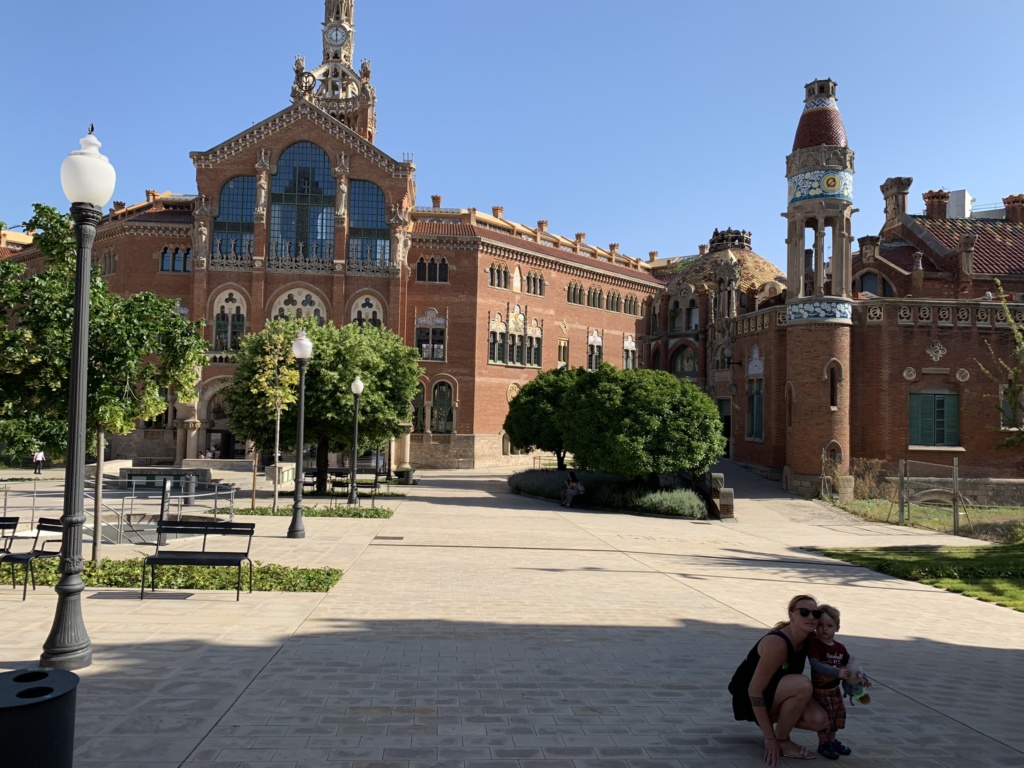 Great thing was that Matěj could run here like he wanted and didn't encumber to anybody. Almost no tourists. It is usually like a dream for us.
Right behind my back (here the mom noticed) stand Sagrada. We admire her from that place and become sad that we will never see her again so we prolonged our walk a bit and visited her again. This time we went through another street for a change.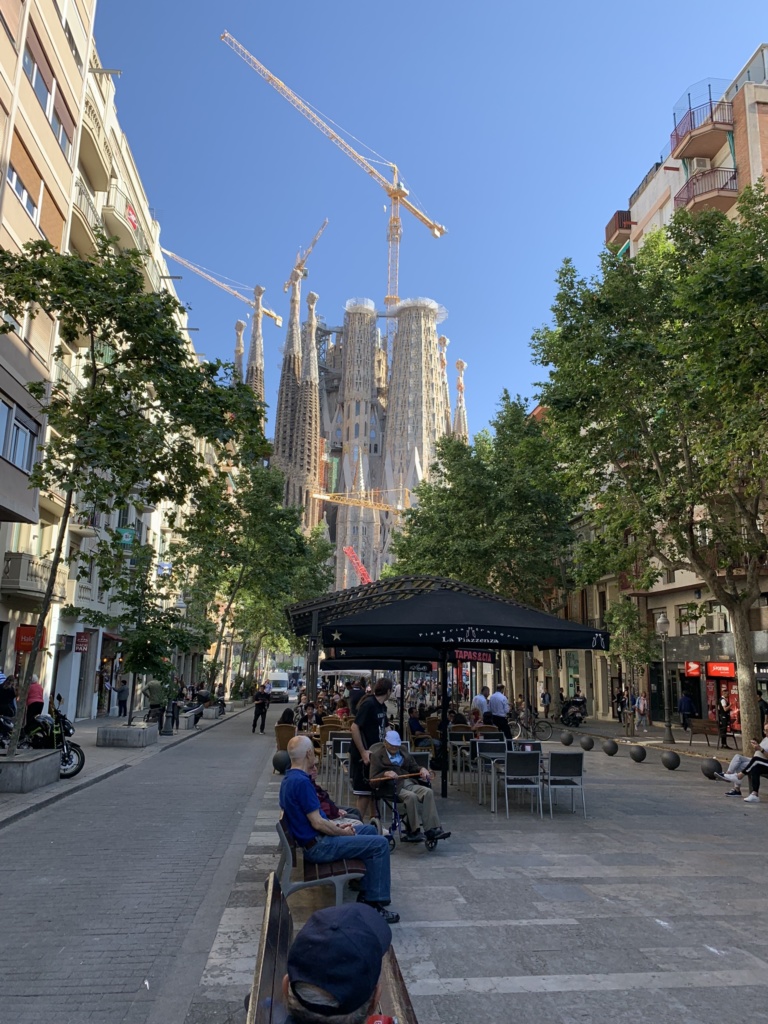 And it was suddenly enough, we guessed our time to return home has come. To take advantage of a bath we have (not a accidentally) in our apartment and relax before our return flight will come tomorrow.
Mommy made a short run in the evening joined with souvenirs shopping and she also wanted to see Sagrada in the dark with all the lights reaching to her.
Sagrada in the evening
Day 6 – return to Oslo
Usually we are 100 percent sure that Matěj will wake up us in the morning, but we rather set up an alarm clock. All our stuff was already pack up. We even washed our clothes to bring them clean to home and must not wash them as soon we will arrive home. It smart isn't it?
The way to the airport wasn't short but we have lots of adventure behind us to talk about and especially, we have a kid. He takes care about all the fun we needed.
At the airport we managed everything clearly (check-in and go through the security check). After all, we are not flying for a first time and we know how to prepare for it.
We took advantage of the airport lounge, where we made ourselves more comfortable. We eat a lot because the flight will not be short. Unfortunately it was even longer. The delay came at the last moment. The boarding itself started 1 hour later than was planned. At least, right by the gate, was small children's play castle and lot of Norwegian kids around. This waiting wasn't bother us so much. It became at moment, when we were stuck at the plane for another one hour. That is 2 hours delay in total and after that, 3 hours more, the flight. Matěj was really nice. But it was difficult for us. We still tried to find another kind of playing. As soon as it was possible, we ordered a coffees and brownies.
Some key points from our holidays in Barcelona:
Barcelona is a beautiful, but big city. You can't rest here a lot. Otherwise, you will go a million of steps.
In Barcelona, you can get a 2 days unlimited ticket for approx. 15€, which you can use for all types of transport. Train from the airport is included. Recommend to buy it right at the airport.
Girona is definitely worth to visit it – it is not so far by train!
Other places that worth to visit them are Besalú, Figueres or Tarragena, which we had no chance to catch them.
You can buy tickets, to the key attractions, online. We didn't have any problems with the lines but one week later, it is better to use this advise.
Costa Brava can be both beautiful and scary as well. So it is worth to look for smaller places that are hidden, ideally with a little history that the Catalans still appreciate.
Car rental companies in Spain are decently called crooks. Be patient and accept that the original price will be 2x higher for any reason. You'll be on the shorter side of the rope because you don't want to spoil your vacation. We recommend taking a picture of the car in detail before and after taking a picture of the tank's condition when handing over the car.
It was perfect holidays. We would have stayed longer. I think we kept our goal of enjoying it, especially with Matěj.
So and next adventure will come in a few days. Next adventure here we go!