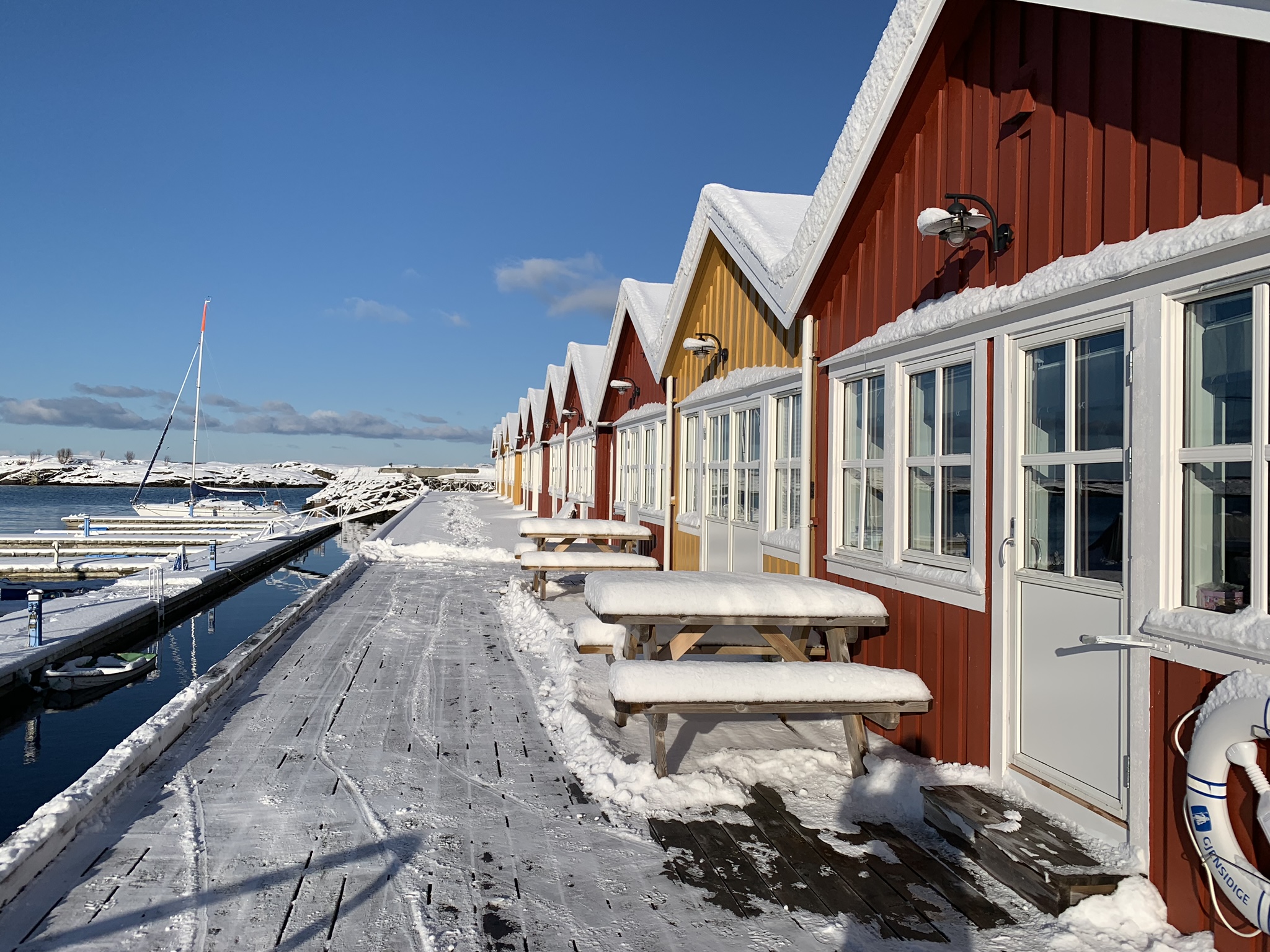 10 Mar 2019
Our trip to see the Northern Lights
Introduction
A polar circle trip heading by Petr, Matěj and a main carrier Zuzka.
It was approximately 4 months ago when the airline Norwegian had and prechristmas discount for domestic fly tickets. Bodø was also an option. It is a capital city of Nordland and it is first big city behind the polar circle. Since I noticed this event around 22:00 and it was until 23:55 same day, it was necessary to act.
I tried googling very fast to find out where exactly Bodø is and if is worth a visit. We had a dream to see Northern lights and when we have better opportunity to see it than when we are living in Norway. That was our chance. I downloaded application NorwayLights to my mobile, which was saying that the best chance to see it is the first week in March or on the end of September. In other winter months you can also have the chance but you can also catch very bad weather. We decided to buy it for March (wait until September Im not able and we are also not sure if we still be living in Norway). Well ok, Petr agreed it quietly. He probably didn't even know what I was talking about all the time. Was just wandering what I am doing in the middle of the evening with the credit card.
The same night I booked the accommodation. Norway is quite expensive, so it was necessary to do it as earliest as possible. Until the cheaper hotels are available. I remembered Petr's advice that with a kid we want to live only in the city centre and also on vacation we need to have a bath in our apartment. For you, you still don't know us. Petr (also now Matěj), they are possessed with bath, so we had a rule, wherever we are going, only with bath in the room.
The best price/performance ratio had accommodation in Scandic Bodø hotel. Hotel is in city centre with a view to a harbor with a breakfast included. The only issue was that it has not a bath. I cant find any information on their web pages. However few days before departure, I sent mail to them if they are able to give us a baby bed and also if they can give us a room with sea view. They answered me that both of them are able to prepare but the sea view is for fee of 300 NOK/night (1000 Kč). It seems to me a lot but i heard that sometimes the aurora borealis is seen from the harbor, which was in our direction. So we get it. 
Day 1
To get the most of our extended weekend (Friday – Sunday) have the most. I bought the fly tickets on 8:20 morning. Arriving at 10:00 to Bodo and we can have the whole day before us. However it means very early waking up for us. At least for our taste. We settled a alarm clock at 5:00. Matěj woke up at 5:30. We have invented to awaken him so he is not upset. We pushed his room door a bit and play his favorite Peppa Pig in television in living room. When he heard it (he is very good at it) he was asking to pick him up from the bed. We let him to watch for a while and than we win and can leave. However we are traveling pretty frequently we ware good prepared from previous day. We made a system to be checkup as fast as possible with the least effort. Unfortunately we missed the metro so we had to wait for next one. With the next metro we didn't have enough time for transfer from metro to train to airport. Only 5 minutes. Its not so much our friends! Especially if you traveling with kid and stroller that you cant ride to escalators and you have to run around on barrier-free ways or looking up for lifts. Anyway, we know the way very well so we made it even in tiny pressure. But you know, I heard some remarks that we should fly at another time and somewhere. It is almost standard. In fact, the only issue is that we don't have enough time to get coffee.
Today's check-in was very fast. Thanks to our preparation. We have not stayed anywhere. So we finally had the time to got our deserved coffee and our Cracken could run in the airport hall as crazy as he could. The flight was scheduled for 1,5 hours. So it was shorter than to Prague that we usually go. We had tablet where we had already running Peppa Pig (downloaded offline from Netflix) and our comfortable flight could started. Finally I can say that it was really a nice flight. The airplane was half-empty so we have one free seat between us where we sit Matěj. I was reading newspaper quietly and Petr ordered another coffee and was also surfing the internet.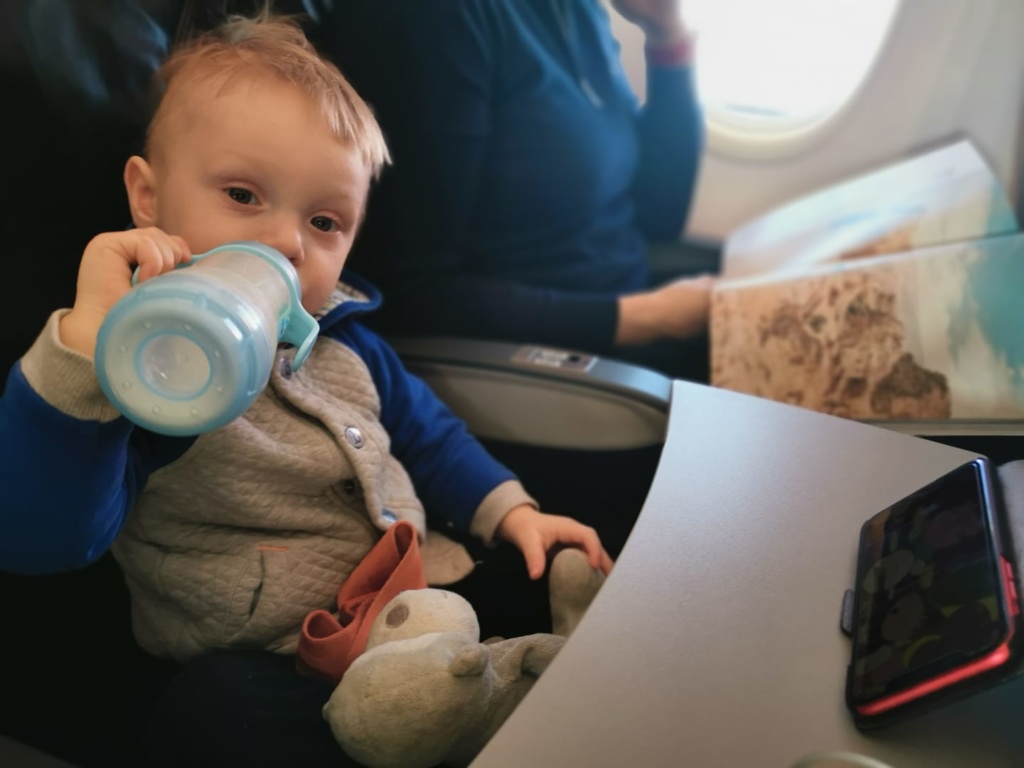 Bodø Airport is very small but on the other hand at least clear. The buggy arrived almost immediately on time. We have only hand luggage so we didn't have to stay there longer. The car rental office was just next to the exit. We rented Honda Jazz (blue color) from Avis company. The final price for 3 days included baby seat was around 1300 NOK (3600 CZK). Thanks god, we borrowed this car. Originally I had the plan to drive the famous places by bus. Now I surely know how horrible it would be if we didn't take this car.
The Airport entry just bend us to our knees. A very strong wind, snowstorm and temperature around – 10 degrees. We just run over to the car. Essentially without our coats. Petr was furiously installed the child's seat to the car. I have to say it looks very unusual. So we had no idea how to make it. Me and Matěj ware quietly frozen in front of the car and we supported Petr to make it as fast as he can. We just did it without any word (which is rare moment with both of us). We both knew that we don't have to disturb, already disturbed Petr, it will be bad. Of course it wouldn't be so bad. But you know. Our daddy is a bit of a nervous man. He did it! Great, so lets pack all the stuff to our car, clean the snow and we can finally go. Proactively I downloaded offline maps of Bodo to maps.me application. So we could use the navigation without any delay. It paid off.
The fist way reached to the hotel reception to find out how they are with the room preparation. Our room still wasn't ready and also we got the information that the parking which should be also for free, would cost 400 NOK/day (1100 kč ) However, the receptionist advised me to wait until 16:00 and park outside, because from that time, parking is for whole weekend out of charge, just on the opposite site of the street.
After that we went to the Aviation Museum in Bodø, which was on our schedule as a first step. Museum was very recommended at TripAdvisor and really not disappointed. For our Matěj it was just ideal. Barrier-free environment full of airplanes. The curiosity for us adults was that between all that airplanes ware plenty of stuffed animals. I don't know why but Matěj wasn't so surprised, he was amazed! We ware doing "Malá" to a bear. The exposition is divided into three parts. The first parts was about military museum, mostly focused on Norwegian history, second part was about airlines and third was the navigation tower where you can go. This museum is in short distance from the real airport, so you can see landing the real airplanes.
From the museum we return back to city center and did a short walk around the city. Bodø is famous for its great graphites. Because we have recently returned from Vilnius, where is a part of the city "Užupis" devoted to a graphites. So we didn't have much expectations. However, Bodø probably won this competition. It was really perfect.
Finally the heils has stopped fallen, but the wind was still blowing really strong so we went down the pier to the sea, which is like a worship of the harbor and whole the city.
We bought some goodies to our room and we finally went to hotel check-in. We gat a room in second floor. Peter was hoping all the time that we could get a room with a bath and yeah. We got it. The bath was there. I have to admit that it was very nice accommodation. Spacious, large room with bath and also with a sea view. Perfect! In addition, find out that we have a fitness in hotel. The only issue was that we didn't take fitness clothes. Anyway, we didn't intend to give up. I differentiate my leggins and t-shirt for it and Petr had decided to buy some short in nearby sport.
Somewhere in that moment we found out that Matěj lost his lovely monkey Didi (she is always with him, she calm him down and he sleeps with her). So we decided to go back to museum and again go the same way by walk to find her. Unfortunately, we have failed. When we come to a big shopping mall we separated. Petr went to buy his shorts and I and Matěj we went to a toyshop to find a new Didi because he was still calling her and we knew that's gonna be a problem. It wasn't so simple with the shorts. We wound up those sports shops when we returned to the first one. As usually. Anyway, was picked up well and the adoption was ok. Matěj is still happily sleeping with new Didi (grey rabbit).
After arriving we all had a bath. Maybe it was a bit weird to have a bath before going to gym, so after gym we had a bath again. I have to admit that the gym pleasantly surprised us. It was modern and really nice. We worked out and Matěj was playing around us with a biscuits.
The idea was that this evening Matěj will fall asleep immediately because he was really tired and he woke up early this day but as soon we try to left the room he started cry. We had a coffe (which was fee at the hotel), buy chips (because its our vacation) and we had to stay at the room until he asleep. We played a games on our tablet. Have to say that this night wasn't so calm.
Day 2
Matěj welcomed us at 6:30 in the morning. We tried to play him a movie with an idea that we can continue sleeping just for a while. We ware really exhausted after this night. Nobody wasn't sleeping well. After half an hour we gave up. He was still jumping on us and still needed something. We all ware looking for breakfast anyway.
Breakfast was just great! For me, I have to say that it was the best hotel breakfast that I've ever tried. Mates was eating his favorite sausages and we also filled our belly as much we could.
Today's plan was clear. Journey to Kjerringøy and on our way back to stay on Mjelle beach. I found a girl named Renata via Facebook and we agreed to meet. She is living with her family in Bodø. So they join us and we will travel together.
It was a beautiful weather. Before we left, we did a small walk around the city. It looks differently in sunny day comparing the weather that was yesterday.
Than we sat into the car and drove. Petr was sitting behind the wheel, Matěj was eating donut and i was chatting with Renata to settle where to meet. We settled to meet on the ferry. We catch it in last minute. Wa stopped a lot during our drive because I was still shooting pictures. The scenery was so nice that I can't stopped. I was in high spirit. We have never seen anything like this before. It was different compare to a snowy Austria mountains. The mountains was falling in to the sea maybe that was the difference. The ferry was almost full when we come so we were a little frightened whether we fit it into it. But, YES. We were there. The ferry costed 140 NOK (450 Kč). We ware locked in the car for whole trip. It was only carrying boat. And it was really short to go out and see something.
After 15 minutes from landing we arrived to Kjerringøy. One of the oldest Norwegian ports from the Iron ages which was working as a trading post. It's a landscape where you can find beaches, rocky coasts, snowy mountains and picturesque port.
We even found here a great café where together with Renata and her children can stay for a few minutes drinking coffee.
On the way to Mjelle beach we stopped for shooting the landscape. Mjelle is famous often visited beach where started many treks paths. Since the kids fall asleep in the car we just quickly run the area with Petr. Meanwhile Renata was taking care of the kids and cars. Here we comes with a plan to stop also in Rønvika (It was on my plan too for watching the northern lights in the evening), there is a beautiful view. And if is it nice weather you can also see the Lofoten islands. And today was the perfect weather.
When we returned to Bodo we decided to please our children and we went to Lekedilla. Entertainment center for kids all ages. Matěj was furiously running and we ware behind his back. We ware a bit jealous to Renata who has older kids and could sit and drink coffee without any worries. We ordered a pizza and nachos here and than we went home to have a bath :).
Aplikace potvrzovala jasnou polární záři, ale nevěděli jsme jak to udělat. Renča nám nabízela, že můžeme jet k nim, tam uspat Matese, že nám ho pohlídají a my se mezitím půjdeme kouknout na Ronviku. Jenže známe Matěje, báli jsme se, že tam nebude moct usnout a že ho to jenom naštvě. Zvolili jsme tedy variantu ho trochu přetáhnout. Od 18 už byla tma. V 19:30 jsme si tedy již vykoupaní vyjeli znovu na Ronviku, kde se nám poštěstilo. Celou cestu nahoru jsme koukali z okénka a říkali jsme si, že asi ani nemá smysl tam vyjíždět, ale když jsme točili poslední zatáčku, tak už jsme ji najednou viděli. Matěj dostal na hraní mobil, kde si pustil Pepppa pig (jak jinak) a my jsme šli ven koukat. Společnost nám tam dělal pouze německý turista, který už tam stál. Pokochali jsme se tak půl hodinky a pak už jsme byli dostatečně zmrzlý, že jsem se rozhodli jet.
Stavili jsme se u Renči doma, děti si pohráli a na hotelu pak Matěj usnul, jako když ho do vody hodíme. My jsme tedy byli také vyčerpaní. Ale po dlouhé době jsme viděli jasné slunce. V Oslu sice už bylo jaro, když jsme odjížedli, nicméně slunce zrovna moc nesvítilo.
Den 3
Budíček 7:00. Je to sice lepší než 6:30, ale tedy taky to nebylo na neděli moc slavný. Neděle, náš poslední den. V plánu byl výlet na Saltstraumen. Nejsilnější vodní víry na světe. Proud vody tu dosahuje až 40 km/h. Prý je to nejkrsánější místo pro potápění, ale na to jsme v tom mrazu neměli moc pomyšlení :D. Navíc na tomto místě byla vylovená největší treska na světě. Pro nás bylo toto místo trochu zklamáním. Proudy nebyly tak moc vidět a navíc foukal děsnej vítr, takže být venku nebyl až takový požitek.
Po návratu jsme se šli znovu projít do města a na molo. Tentokrát se to turisty jen hemžilo. Slunečné počasí vytáhlo lidi ven. Vítr byl opět tak silný, že to až bolelo. Matěj dokonce plakal. Zašli jsme si tedy do kavárny. Jedné, která byla otevřená a dali si pohodovou pauzičku.
Trochu jsme litovali, že jsme domů neletěli dřívějším letem, protože se nedalo nic moc dělat. To počasí, ač slunečné, bylo takový, že se nám už nechtělo jít vůbec ven.
Jeli jsme na letšitě. Byli jsme tam asi 2,5 hodiny před odletem. Matěje tam dost bavily eskalátory. Potřebovali jsme odbavit kočárek a vrátit auto.
Cesta domů už pro nás byla trochu dlouhá. Byli jsme unavení, vymrzlí a Matěj byl lehce otravný, protože se v noci nevyspal, ale to my bohužel také ne.
S otevřením domovních dveří jsme byli štastní, že už jsme doma, ale o to víc v nás stouplo nadšení z již proběhlého výletu.