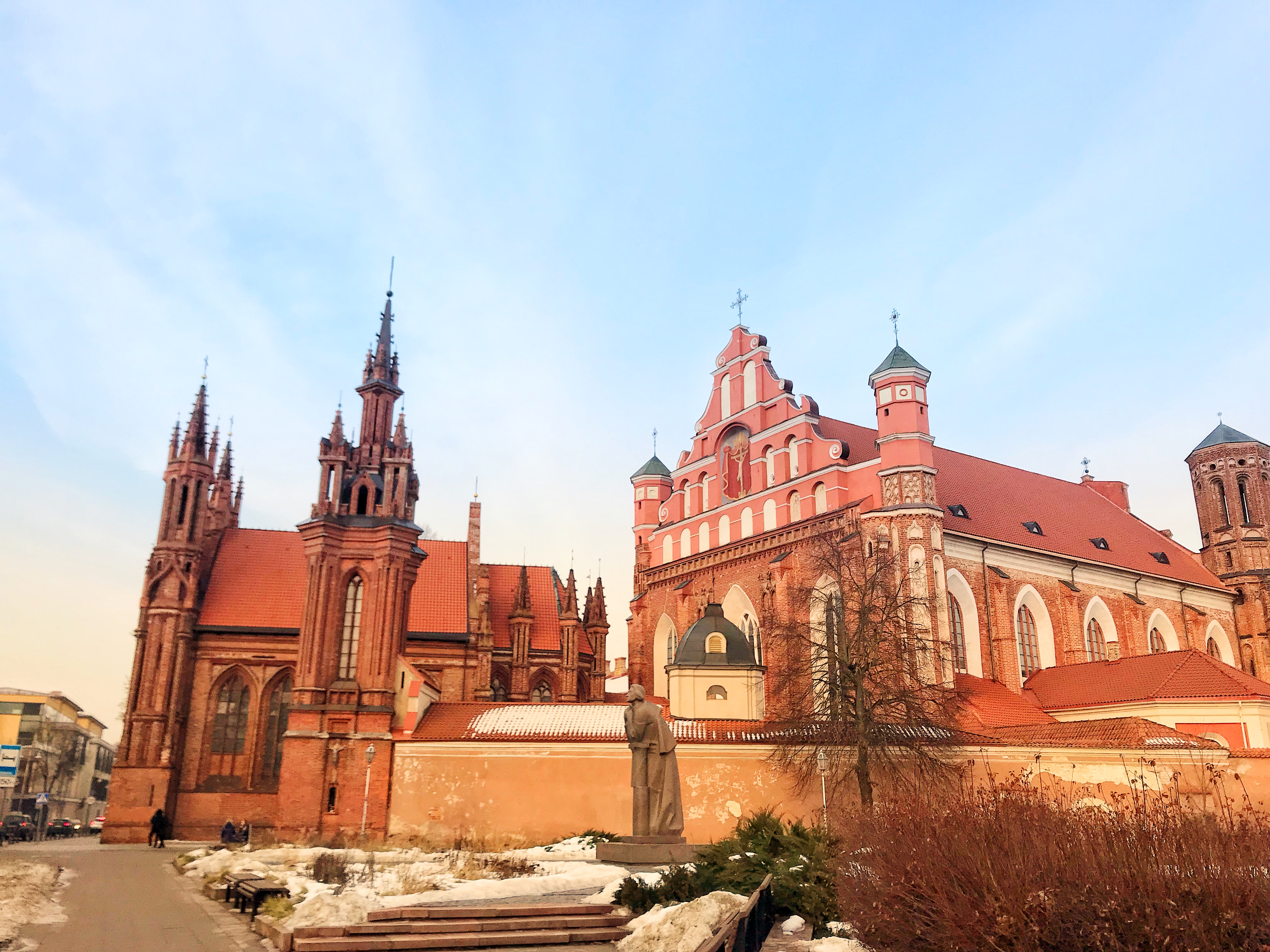 12 Feb 2019
Vilnius – Art city with a sign of socialism
Here it is. Our city Oslo we have already cross-cut and nature trips are making sense only on weekend time (Matěj is walking only a few months). That was why we were thinking about where to go with our following requirements:
After a long time we wished to go to a hotel with wellness to experience something more than only watching TV a drinking Pilsen from tin (In Norway so precious)
A place, where we can eat well and cheap ( If possible not only sausages but also modern cuisine with the option of taking vegetarian recipes for our New Year's challenge)
Direct flight from Oslo – the transition is worse than 

the intestinal surgery with our kid

The reasonable price level of an accommodation and meals
All this was confirmed by Petr's brother Jakub, he is currently living there. This fact and the possibility of using a trip as a meeting with Jakub, he could also served as a native, we found out that the capital city of Lithuania for extended weekend is the best idea for us.
Lithuania has generally similar (maybe a bit lower) price level than Czech Republic. This was reflected in looking for a suitable accommodation. 3 nights in 3 stars hotels with breakfast and wellness went up than 4000 CZK. We have mixed combination of 2 airlines. Way to Vilnius was with Ryanair and Norwegian on our way back to spend in Vilnius as much time as is possible. Family ticket costed no more than 3000 CZK.
Day 1
Morning flight meant for us that we have to wake up at 4:30 to get to the airport with Matěj, check-in our luggage and have a good coffee with possibility to show a couple of airplanes to Matěj. It all came out miraculously and we really found ourselves at the airport, where we successfully check-out our buggy and went for the coffee.
I don't know why I didn't refuse Ryanair on the beginning and didn't find more comfortable kind of transport (for example on the camel), but there was no way how to change it at the airport. The flight with true low-cost kings brings a lot of benefits. Waiting on the runway for 30 minutes and priority boarding to a bus or so less place for legs and kid. One would rather cry. Repetition is a mother of wisdom, so lets hope, when we forget again, this adrenalin form of travel no longer exist.
After arriving to Vilnius, we received a stroller almost immediately, which is primarily due to the airport's size. All of the destinations we visited (except for Seychelles), their airport was smallest and pleasantly compact. From the plane, we were at the taxi in perhaps 15 minutes, including Matěj's changing diaper.
After we stuffed the stroller's taxi driver slightly against his will into his polished BMV, we set off. A big sign that warned us that the trip to the city center should not cost more than 10€, did not prevent the taxi driver to give us a bill with 13 €. The fact that his trunk was dirty from our stroller and that our hotel was in a middle of communistic area far from city centre resulted that I give a tip to a taxi driver instead of argue with him.
The hotel was built (according to the lift label) before 1999 and was similar to "Hotel Sen" on the exit highway to Benešov. The word "Center" in its name probably meant a "meeting center" rather than a city center, and if we spend there a few more minutes by exploring the plastic flowers in the corridors, we would certainly find a couple of drunken young financiers from the Lithuanian analogy of Partners. After our check in we went to the real city center, which was about 20 minutes walk (which really pleased us exhausting flight). The combination of my inattentiveness and Zuzanka's infallible navigation talent, led us through the beautiful part of the Vilnius estates to the very center of the city for a beautiful 45 minutes.
First day was about wander around center and waited for the end of Jakub's working hours with a Russian map, which the receptionist kindly gave us. Direct answer for the inquisitive, yes, we could use mobile off-line maps, but we did not want to drain the mobile in the freeze, and moreover, with a paper map, it also has its magic. After about an hour of wandering, we noticed that the significant points on the map are not local sights hits, but map sponsors who were on the edges of their ads (primarily nightclubs, nail studios, and tourist trap restaurants). Even so, we went through the center and saw such a must see things:
A huge square with an even more grandiose church (without knowledge of history, it was clear to us that it was built by Soviet occupiers)

Main street full of shops and cafés
National museum, which charmed us with its space and with a mixture of everything they found and pictures by famous lithuanian artist included
Another key finding from the first day was that in Lithuania they obviously loved stairs, and barrier-free status is still largely unknown. On the way back to the hotel, we noticed that there is no restaurant without three steps (we have remembered well know song from the Czech series) and it is even very common to have a few stairs just in the middle of a standard pavement.
After a bit of rest and a delighted bath, which we don't have in Norway, Jakub arrived to the hotel for and joint us in hotel's children's corner and dinner. After the first half-hour of inquisitive inquiries about why we decided to live in the outskirts of Vilnius in a hotel of early business baroque and not in the center, we went to a local restaurant that made Ukrainian cuisine (which is quite common in Vilnius).
The restaurant was great – it was empty on Thursday and even had a children's playroom, so Matěj had a real fun and we had the first time to eat and drink for a total of 32 + 8 € for 3 people including dessert and good coffee (which corresponds to roughly one main course in Oslo😊). (TBD LINKS)
After return back to our hotel we begun to feel its benefits. We could get local beer and take it to kids playground where Matěj could made a mess without disturbing anybody. We took advantages of being in hotel background and talk about the life. Matěj was on wi-fi babysitter and the bar was in distance range.
Key conclusions of the first day:
Airport taxi are same as taxi at Prague airport. We recommend to use Taxify app. Final price to city centre (without traffic jam) should be around +/- 5€
Soviet Union broke up yesterday? First walk around Vilnius was disappointing – city is sprinkled (bit looks like a Ljubljana), full of broken churches and houses
Why the hell we didn't go somewhere to summer island?
Day 2
We ware a little bit more prepared this day. Jakub had circles a places on map where we had to go and where is it interesting. The main attraction of this day was Užupis. A quarter of Vilnius behind the river, which is famous with its modern part. In some publication known as a "Lithuanian Montmartre". Originally it was jewish quarter where after extermination was cheap rents and was a place for bohemians. Streets are full of unusual arts, graffits and alternative cafés or properly weird people.
On our way we found various churches of gigantic proportions. There was always a question, where the hell appear such a huge church. Church concentration on this place is something really specific – explanation is just simply (even we didn't realized it at first). Vilnius was always between Poland and Russia historically so depended on period who was better friend (etc who held the domination) grow up churches catholic or Orthodox. It is not so strange that two large cathedrals stand in the center next to each other (just close together). Despite the large Jewish community (Vilnius was before the war Jewish center), only about one synagogue survived the Nazis.
For lunch, we went to pick up Kuba at work, and he took us to Asian food, where he sometimes goes to lunch. From the original plan of tasting some good vegetarian food, Zuzka finally ordered a beef mixture (the vegetarian life is heavy).
After lunch, we visited the Museum of Victims of Genocide. We have to admit that this has been a pretty strong experience for us. A sacred place full of distant history. Lithuania has experienced several periods of oppression and we have a little more understanding of why it looks the way it looks today. After Lithuania's first occupation at the beginning of the war, Lithuania came under the rule of the Germans, and subsequently became part of the Soviet Union after the re-liberation.
The changing of totalitarian regimes, same as in Poland, resulted in the initial persecution of the elite, the subsequent extermination of Jews and Roma and then the second round of purge of the nation's elite within Stalinist Russia. The Lithuanians are (as well as the Norwegians) very proud of their resistance, which they enjoyed as against all three waves of occupiers, and they are devoted to a large part of the expositions.
The museum building is very authentic because it was the seat of the SS and the KGB at different stages of history. The first two floors documented primarily how the rebellion against the Russians and Germans looked, as well as the functional aspects of the KGB (wiretaps, structure, methods and development over time). The strongest part of the museum is then the cellars that functioned as a prison for both the SS and the KGB. There are preserved cellars with descriptions of how the whole process of "rectification" and "reception" to executions worked. The entire museum is "beautiful" even you can feel the cold on your back. Even (even though we are not quarreling at all ) we argued here about whether to let Matthew go or not. His walking means that he is very happy and cheering – which was not suitable especially in the the death cell.
When we left, we had only the mood to go for coffee. We went to the café to opposite site of the museum, where there was plenty of space for Mates to run around and not to hit the people. The stairway was also present, so a great attraction was taken care of. And then it was time for Kuba to finish his work, to go to his apartment and it was also the time to choose where to go for dinner. Our most popular part of all trips.
The winner of our interest was the vegetarian Indian restaurant Radharane on the main street. We did not spoil our famed food even by constantly picking up toys from the ground. We just don't know if the couple of businessmen sitting near us was feeling the same way.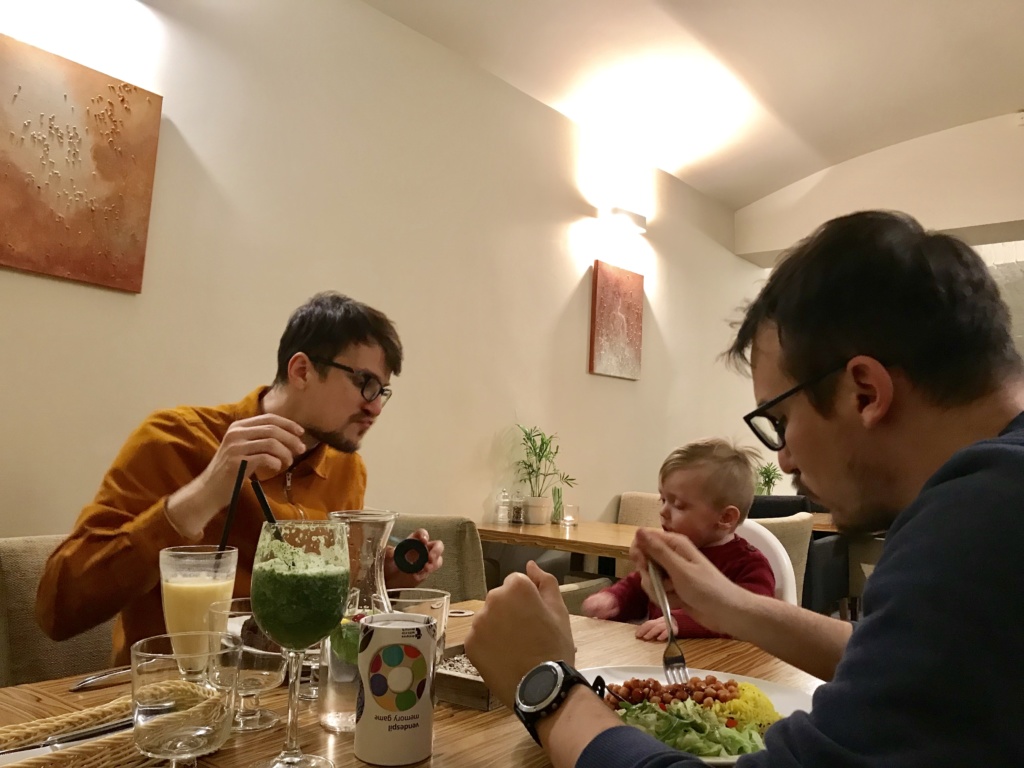 Even though we had great plans for the evening, we were so tired and slightly frozen that we returned to the hotel and took advantage of the sauna facilities we had at the hotel. Matěj was once again on a mobile babysitter. We finished the saunas with chilled beer and went to sleep … well, I thought so. But Matthew understood it differently. He decided to be up and cry every hour.
Day 3
In the morning we looked like after a busy night, but the breakfast saved it a little and returned us to the form: D. For this day we planned the trip to the Trakai castle. It is about 30 km far from Vilnius. It is a castle in the middle of a large lake, which leads a beautiful walk along the lake (or over a frozen lake).
The original plan was to be in about 10 in the train but it changed a bit, after we called at 10 to Kuba, we're just on the way to his apartment. In the Hipster Cafe, we kicked ourselves by a coffee and moved to the train station. The train should leave around 12:30 so we had enough time. Thanks to that, we have found the well-known graphiques of the Putin giving a shot to Tramp, which gave us enough fun.
The train flew up very quickly. Mates slept whole way and we made our way with a game Smallworld, which is one of our favorites. After getting out of the train, we were a bit hungry (Surprisingly). The road to the castle was about 30 minutes quick walk. Just before the castle, we calm down our hunger in the local Lithuanian restaurant Trake Dvarelis, where Kuba ordered everything from the menu to taste local specialties. This lunch was also a bit far from our vegetarian way, because everything was flesh. As Peppa Pig said, it was D-LICIUS (from this sentence is probably clear, that we already lost our minds from this movie). From local cuisine we recommend following:
Matesy
Fried bread with cheese (such a local substitute for fried fries)
Beet soup
Kibinai (traditional baked wrap with filling)
Chicken Kyje (fried traditional food)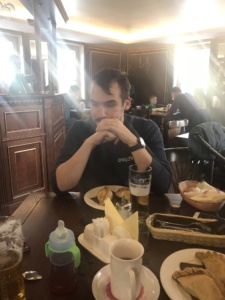 After lunch we risked a fall of ice under our full bellys and together with the other tourists, we went trough the ice to the castle. Stay for a while and went back again. The castle is specific because it is newly built by Russians under the past regime – such a renovated Okoř. There was still a system of printed train schedule on the local information (even though the lady looks sh know what internet is) and so we received a number of confirmed information that the train is going in an hour. Despite the Internet, which claimed the opposite, we ware running to catch the train which didn't go, of course. A socialist bus with a driver who refused gave me money back after I paid for the tickets. We returned peacefully to the city center.
In the end, we all made it. Matěj was a little bit bored, but we came home relatively quietly. The last night was about playing table games in the hotel bar, which closed the kitchen on Saturday night for sure. So, the last dinner in Vilnius ended with a local kebab after the failure of the local card with a Czech card.
Conclusion of this letter.
The first impressions were not good, but the second day turned the feeling. The contrast to cleanliness in Norway is big, but it is now with almost every country we go from Norway. The ideal one would be to visit Vilnius in summer or spring. The key is to find out where the real center is and get an English map with sights.
The barrier-free nature of the city probably does not change, but if you refuse to constantly carrying the stroller, Vilnius is actually quite a nice and compact city that can be walked in two days. We do not know how to comment the nightlife, but for us, the key district of Uzupis seemed to be able to swing properly, and even though we were only visiting it in the daytime, thanks to our genius loci, the most beautiful part of Vilnius. The strongest part was for sure the authentic genocide museum in the KGB building.
The way back to Oslo was already with the Norwegian, and it was all in the way. Flight on time, no delay, smooth takeoff and landing, and Mates was merciful.