3.6. we are celebrating 2nd wedding anniversary. In one of our debates that our anniversary is probably coming, we find out that we both think a completely different date. So its quite lucky that we have it on our rings engraved.
Given the fact that open a bottle of sekt or go out to dinner is in Norway like a personal bankruptcy in Czech republic, we decided to take a trip. We think about visiting Stavern for a long time. From that city there is famous cost path with beautiful views. And everybody recommend it to us.
I promptly opened my booking.com mobile application and started looking for the best accommodation in that area. I almost immediately found it at first sight Scandic Havna Tjøme. We have very good experience with Scandic hotels – especially we love their breakfast. The issue occurred, when i tried to find where the hotel is located. Using bus or train it will take around 3 hours and our plan was to celebrate anniversary not to divorce.
So it comes to look for a car to rent. Even after a year of living in Norway we are not able to rent a car via car sharing platform, because simply we are not (local tax rules are just as meaningful as our in Czech republic and scoring such services is doing here is based on taxes. So we decided to do what scares us the most – the SIXT blackmailers websites. The price wasn't so bad at least.
After a long comparing if rent Ford Mustang or Tesla S we confirmed – Fiat Panda for beautiful 1500 NOK. Yes, this is the reality in car rental services in Norway. If we take the train (which we wouldn't get to Tjome) it will cost around 1600 NOK.
Thursday 30th May
In the morning we divided all activities. I prepared a snack, Peter went to a city centre to pick up our car and Matěj's only task was to get tired of playing as much as he can to stay calm in the car. Unfortunately, an original estimate that we will only have a stroller and one bag of clothes (we only go for one day) didn't success. Finally except the stroller we tried to fill the car also with one big traveling bag and two bag packs. All this in (of course) in heavy rain.
We planned to leave at 10:00 and surprisingly we almost hit it. Instead of Fiat Panda we drove from car rental with new Corolla so Petr could drive a hybrid (an interesting experience) for a first time. Obviously, the whole journey was raining and our small (but partly electric) car broke the highway puddles. According weather forecast, morning should be rainy but after lunch the weather should started to get better.
Stavern
After an hour and half we arrive to our first destination – picturesque little town of Stavern, which is located in a short distance from Larvik city. A harbor town which was always been important in the history as a port offering ferry to both Denmark and Sweden.
It was still raining when we arrived to the town, but it wasn't so bad that it would discourage us of going to Fredriksvern for a walk. Matěj just woke up so we put his clothes on and so he could go on his own. I hope he forgive us (in a heat of our anniversary celebrating) that we forgot to take his hat, waterproof jacket, gloves and all the needed stuff into the rain and wind which he would used to wear. Fortunately we buy a good stroller at least. So we could put him in for a while to warm up and get dry.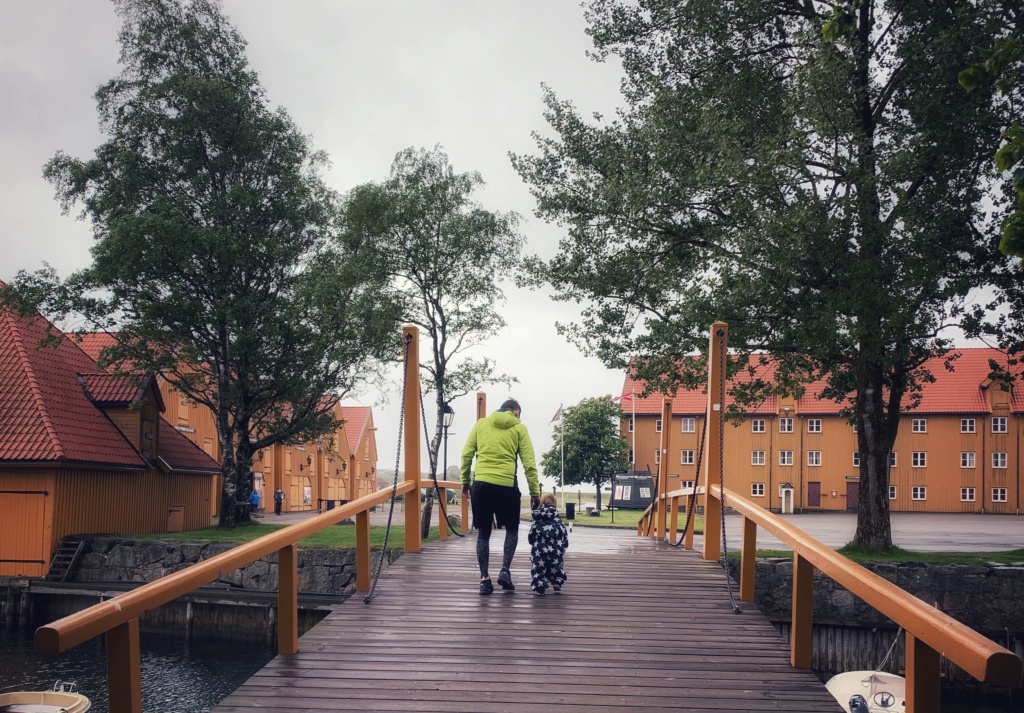 If there wouldn't be the rain we could say that it was beautiful. The only unpleasant thing was the strong wind on the beach where started costal path which we had originally wanted to go through and visit a Rekke village. We had to rethink our plans. None of us was wearing a waterproof clothes and the weather still wasn't changing his mind. So we returned back to Stavern city and went to a Det gule Gelleriert Cafe. Cafe full of paintings and originals furniture. I even took a picture of for inspiration. For long winter nights, when Petr will be bored and will have enough time to make me one.
After a hour and half we left. Still raining. Unfortunately we had to give up the walk around the coast. We wasn't equipped enough. At least we made a walk cross the city, had fun on the playground and the most famous attractions visit by car. I know, it is not so romantic but it is still better that stay at hotel room and look out from the window while rain.
Mølen
Our next step was famous beach which is known thanks to original "Rolling Stones". This landscape full of beautiful stones has been formed for a thousands of years due to a melting glaciers. That is why we can find here so much huge variety of pebbles. Something about its pomp is that this place is currently on the list of UNESCO World heritage.
We ware pretty disappointed that we could try the trek which is reaching to this beach. The path must have been really great. On the other hand, Matěj had already soaked both of his shoes and the path wasn't suitable for the buggy either. Matěj has nominated himself for a boy who is playing with the stones (Zdenďa would be happy) and we ware enjoying genius loci from that amazing place.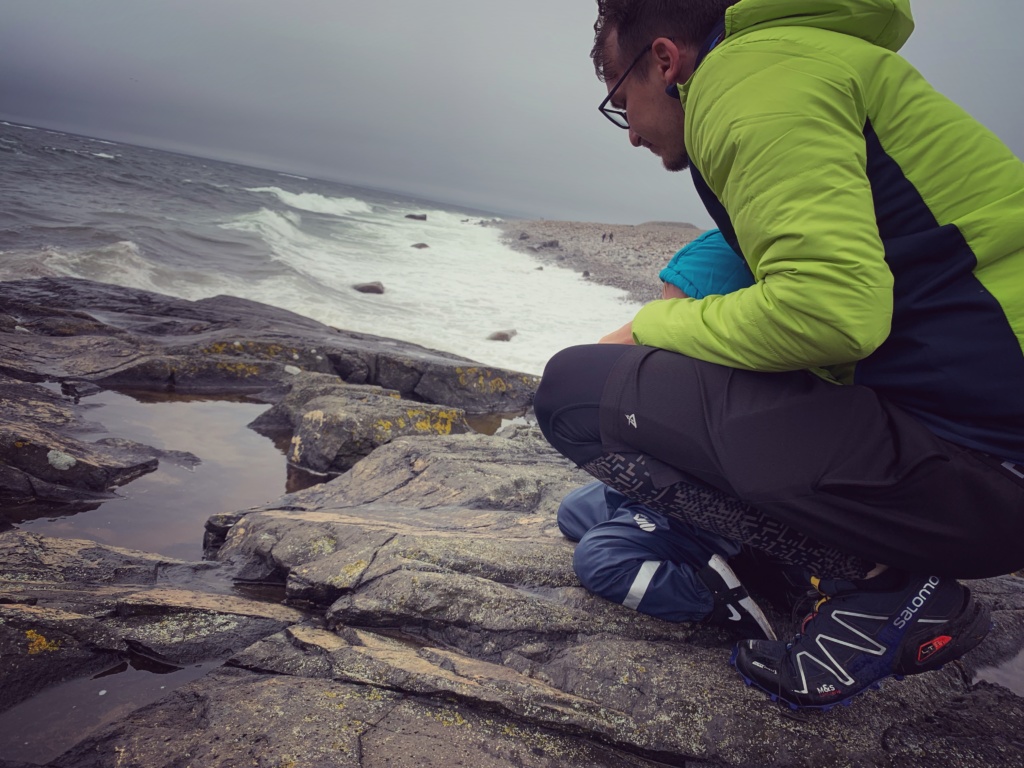 As soon as we agreed to collect few stones and take them home as a memory to this place, father of this family forcibly dumped about 16kg of stones from mothers pockets. And also must have forbid to Matěj take a stone of his own head size and identified 6 of collected stones to take them.
Mother's Note: For one I was convinced it was a rock that hides gemstones inside, but we couldn't verify it because Peter took it and threw it away. So the next time we write that we're driving Fiat Panda again, we can remember and mourn that. I haven't found another one yet.
Unfortunately on our way to the hotel, we realized that we missed Matěj's Didi (the second one) again. We ware considering to drove back to Stavern for a while and try to find it, but than we realize that travel (generally living) with two most popular fluffy toys is really tough. So one toy must have be enough for him.
According to car navigation system, to the hotel it is about one more hour of driving. We stopped by for some coffee and than we drive without any stops directly to our hotel. We ware looking forward to wellness and to have some relax after a busy day. And we ware still a bit frozen.
Tjøme
Upon arrival we immediately checked in. Our room was already purchased via booking.com. After finding out that our anniversary apartment doesn't contain, after blowed and rainy day, a bathtub, we tried our luck at the reception. It was finally done after paying some more money (approximately 80% of original price). And from that moment we ware living there like in palace – probably the nicest room that we have ever had.
Most beautiful was our view to the harbor. It was great. At that moment everything became suddenly brighter. Even the sky.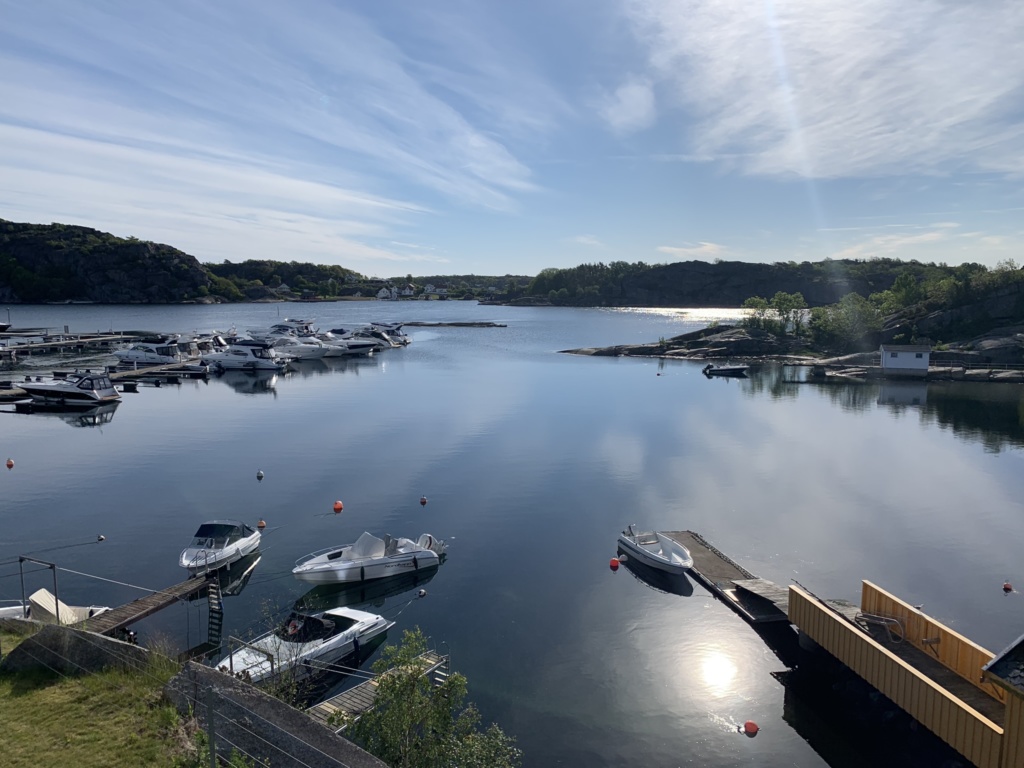 There was also a kitchen, so we have decided to cook by our own. Even during weekend there was a shop still opened in a nearby marina. In the spirit of enthusiasm from our apartment, Matěj has fallen over and get a very nice bruise when he was climbing around the window sill. This terrible bruise we firstly tried to squeeze by a cold tea spoon (he wasn't obviously comfortable with it). Happiness in misfortune – Matěj was after 15 minutes playing and laughing in his bed again.
After finding out that a wishes bathtub has a broken teat and it is not possible to fill it up, we decided to finally visit wellness. Of course after Matěj will asleep. The wellness was very good rated via booking. So we took a swimsuits, turned on the babysitter and went to explore the pool in the ground floor. I mean in to the wellness which was closing at 21:00 and Matěj asleep at 20:50.
The only thing that pleased us was that the TV had also HDMI cable at least so we could play a movie that we have already downloaded (romantic shooter John Wick). To this, we turned on the fireplace and let it to heat our backs. As a willing housewife i made a fresh prawns and Petr pull up a pack of crisps. Even closed wellness can't compete with this.
I can say that this night was even magically calm. Matěj slept the whole night. That has never happend before. Around 4 in the morning we woke up to see the sunrise. Straight from our bed. It was amazing.
Saturday 31st May
The best thing in Scandic hotel is that they have a truly fantastic breakfasts. As soon as we woke up we didn't think of anything else.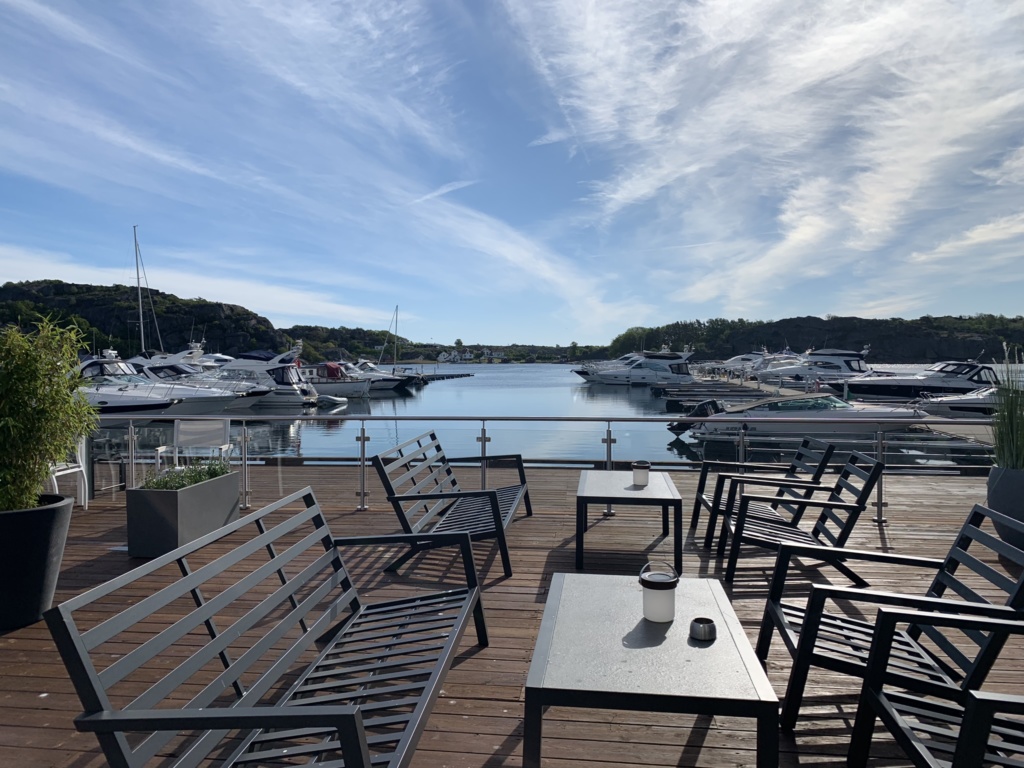 After breakfast we packed up all of our stuff, to put them into the car and and go on the trek to see "The World's End". At this moment Petr's mobile started ringing. It was our financial advisor with whom we had an planed call (in a weak moment before we knew about this trip). So we separated again. I went to our car to put there our things an on the way back to stop by at children playground. Petr was arguing about our finance.
Po snídani už jsme si rovnou sbalili věci, že si je hodíme do auta a vyrazíme na trek ke "Konci světa". V tom nám zavolal náš finanční poradce, se kterým jsme si v nějaké slabší chvilce dohodli call na tento čas, ještě v době, kdy jsme netušili, že pojedeme na výlet. Já jsem tedy vyrazila uklidit věci do auta a pak na hřiště s Matějem a Petr šel řešit finance. It stopped us for a while but our moment has come. So after 40 minutes we could finally go.
On the reception they recommended us to go there with stroller that the path is completely ok to walk there and that this trip take around 2 hours.
Still, we aren't enough Norwegian to be able push stroller on the way like this was. This path was almost impossible to go, so you can imagine to push the buggy through it. After all, we couldn't have anything to write about.
"The World's End
We are finally there. Matěj was a bit grumpy. But all has only one reason. (a secret message to his future girlfriend, if she will ever read this article – he farted a lot and wasn't able to do poo).
Only here we realized how we underestimated our clothes again. At the last moment we decided to take at least sweatshirts. The fact, that is wasn't enough was the moment when the Norwegians started walk around us in the polar jackets and the little children ware wrapped in reindeer skins. Matěj had only sandals and without socks, Petr worn shorts and I took my skirts and also sandals. At least we could prove the Norwegians our Cimrman's – (not exact translation) but in a shortcut it means following: Where the wolfs died, where the reindeers died, Czech will adapt. (Editors note – we are not sick).
Anyway, what we saw, immediately took our breath away. We both ware expecting some view from a rock, but this was totally unimaginable. We truly understand that Vikings thought that this place is the end of the world. Well, you can see our pictures.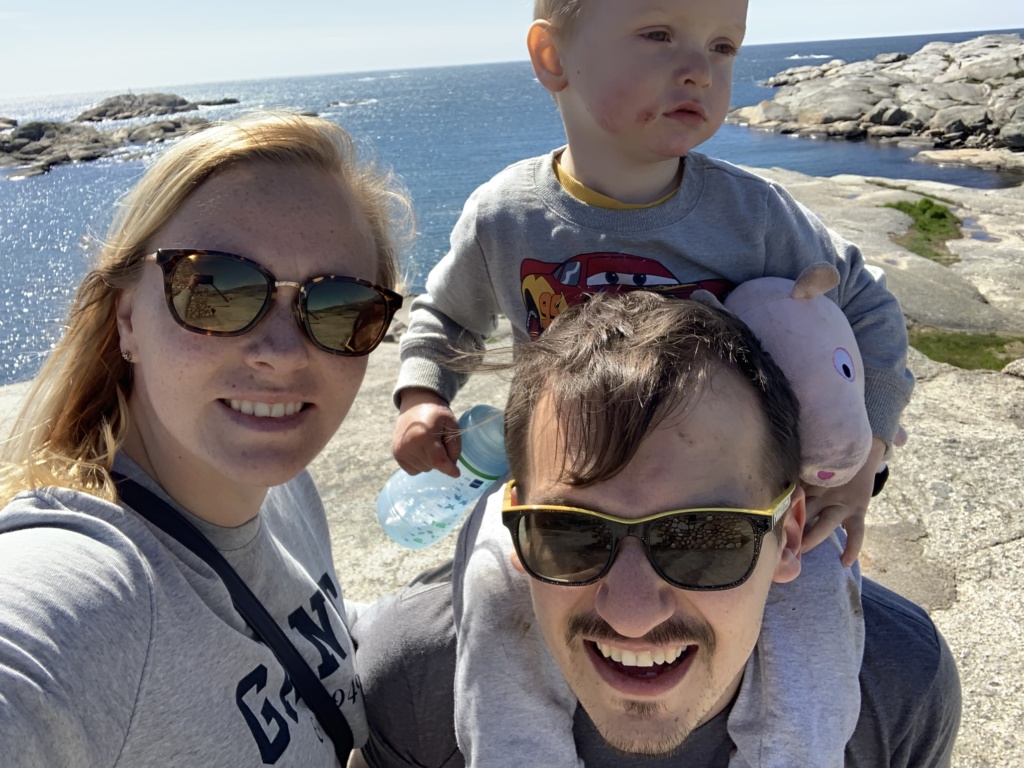 Because of the cold that was there. Matěj was ruthlessly belted in the buggy, to warm him up a bit and also it was around 12:30 which is his time for sleeping.
While Matěj was beautifully sleeping, we stopped by to see former military base Torås fort (today fully opened). We ware a bit worried about Matěj, letting him sleep in the middle of abandoned military object, we usually run up to the spot (typically bunker) and quickly run down back to him.
This day we walked again around 20 km. Matěj woke up just when we was arriving to the hotel area. So we had a chance to use the playground by the hotel before we leave.
Tønsberg
As a surprise, we found out, that matěj has exactly 5 ticks, which we successfully pull out with a special Norwegian feature.
Tonsberg is one of the oldest villages in Norway (at least according to our guide). There are well-preserved vikings functional boats. The biggest adventure is if you sit there with other tourists and together paddle the boat as in the viking age. But in a 3 member group we couldn't paddle it and the other tourist ware sitting in a nearby pubs having beer and snack.
The town also has a beautiful riverbank, which is full of people in a nice weather like this was. Everyone took off their hoodies after winter and enjoying sun.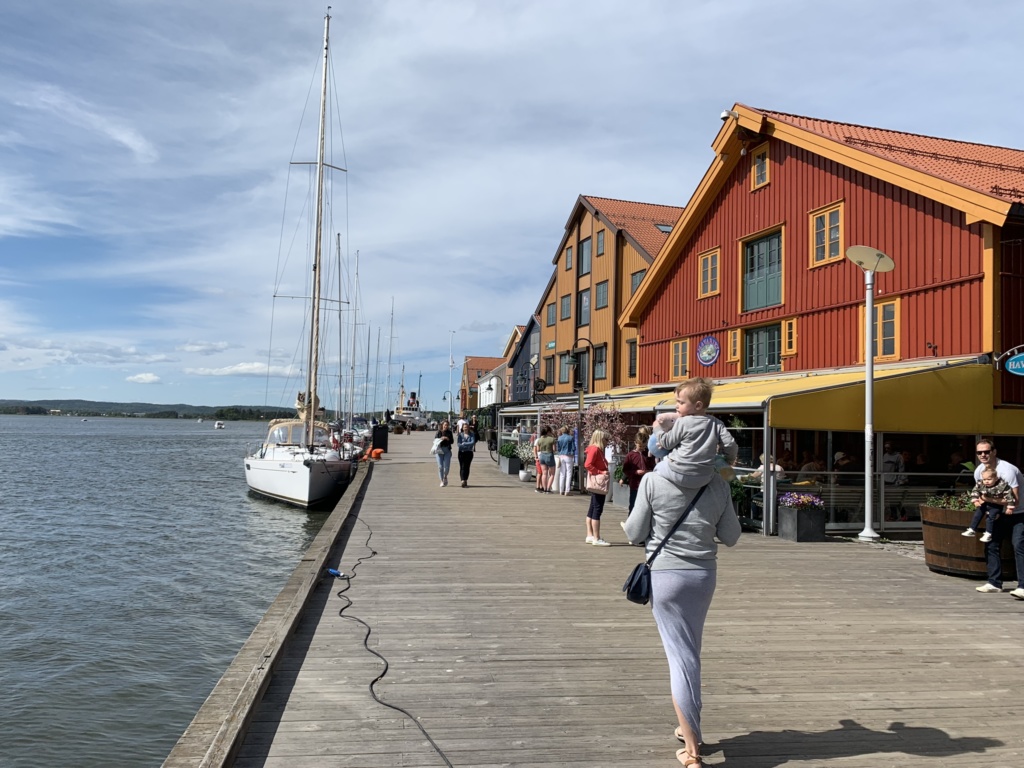 After a quick lunch, which we ate in a nearby sandpit, we wanted to conquer the last point of our plan. The Rock Castle on the hill. But we ware so tired to go there. It was nice to see it from the distance where we ware sitting. Our way back home took about 1,5 hour.