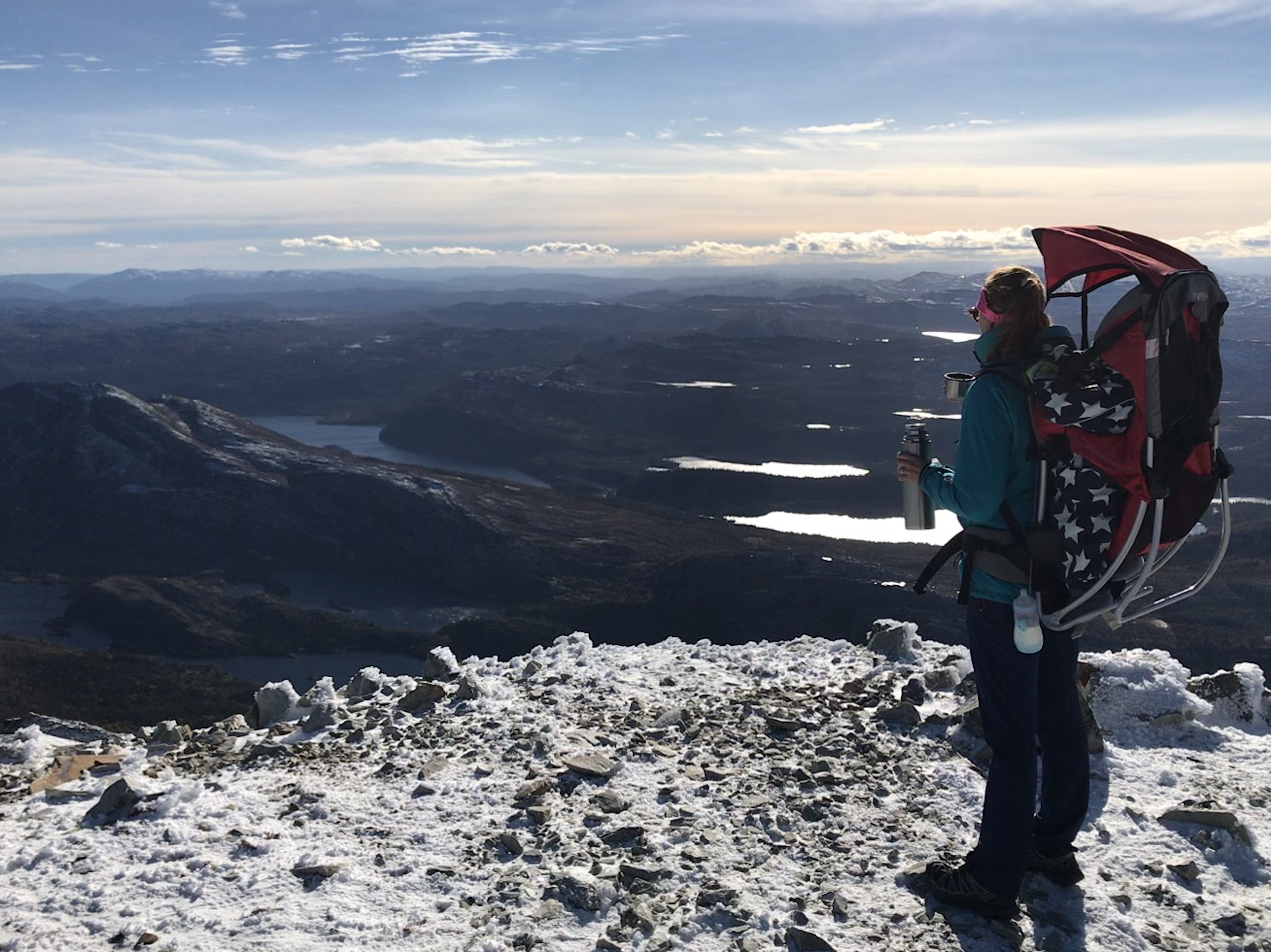 7 Oct 2018
Rjukan – no car, disease cured by walking
Preface
And here we are. The first official family holiday (just we three) as a part of our Norwegian stay. The original plan was clear – Petr will return to Czech, bring the car, take some ride around Oslo and return it back to Czech on the way to Christmas to home to Roztoky. We can also drive through the Danish and everything will be just fine. One way ticket has been already bought on Wednesday evening, 14 hours drive by car into Norway on Friday. An accommodation in Rjukan was too already booked from next Monday. Ideal plan, we can't imagine nothing that can happened to us.
No.
We wouldn't have been Caisls if something did not happened to us a week before leaving. Just for sure, Petr wanted to find out the way of paying Norwegian highway toll in a week in advance. It is really quite atypical for us, we usually solve those kind of issues mostly on the way. The pages spokes clearly. It's simple, it takes just only five minutes on this website and it's done. Then you only wait for the invoice. From the previous investigations we ware absolutely sure that we can bring our car for six months period without paying any tax.
Yes, it took only 5 minutes until we find out that we ware absolutely wrong. As a permanent residents we can't to bring our own car without paying any tax. It just how it works here. The only option was that we fill the form (on police department) as a resistant only for two years. That wouldn't be any issue, but we didn't. Nevermind. The fly ticket just run out and Petr will not go to Czech. We can rent the car on some car sharing platform or in the worst case from the Sixt and we just enjoy the vacation.
After a stressful registration and identity verification in car sharing platform nabobil.no, we finally get into the desired point when we could ask for a rental car. Petr was thinking (for a while), if he was willing to borrow a Tesla or some kind of BMW for that good money (against to a Sixt rental). But after filling all needed parameters we decide to reach for more family cars as a Passats or superb – because we know them very well and are good. And the result? Due to the October holiday in the same term as was our vacation, all of the car owners gradually rejected us. After another wave of asking we finally got our car – Nissan Note 2007. Gasoline 1.2, smaller then Skoda Fabia an 174 thousand km in the veins. The Crisis is behind us. We have our gasoline microtesla and on Monday, we can go. HOORAY!
Our free weekend before leaving, we decided to use for small trips around Oslo and some entertainment for Matěj. The strong throat pain and swollen nodules at the neck of both parents maybe invite the trip in wind to meet the outdoor fitness or maybe the visit of children entertainment park full of little bacilcarriers. Anyway on Saturday afternoon we ware both totally sick with the fever. So Sunday was about couriering and rapid overflow our unsolicited visit. The advantage of having a 11 months old kid is that if you're sick he can understand you and let you sleep and playing somewhere in the corner alone. Ideally he can even bring you a hot drink. No. Nothing from that wasn't happened again. But we don't want to let him down. Matěj was great. He let us sleep and don't need so much attention (as he usually need in common weekend days).
Day 1
Relatively cured (maybe the feeling was from two inhaled paracetamols we had) we woke up at 7:30 from the bed, behind of happy screaming from the babysitter. Two things went wrong and two thing has resolved. From that moment, we believe that everything is gonna be just great.
This resolution quite delayed a fact, that the woman, who borrow us th car, perceived the columns "baby seat" as a possibility to fix our own seat in to iso-fix. Zuzka made a short trip to Gronland to visit her friend (5 stations by metro), by which we (very brightly) ask baby seat for any case. We know that thing are going wrong. We wouldn't go by car because the navigation told us 20 minutes, we thought its to much. But we didn't recognize that metro have 15 minutes intervals during the weekend. And Zuzka hits almost everytime the full waiting interval. Departure delayed for an hour and half (it still really good for family with 11 months kid).
Finally on our way – firstly planned stop in Drammen was canceled when Matěj was immediately fall asleep. We could have wake him up, but we somehow appreciate situations when he sleeps and we even know that a child awakened against to his will is worse than whatever you can imagine 🙂
According to dismissing Drammen it bring us to the distant stop named Notodden with beautiful preserved church Heddal stavkirke. Like a true Czechs we just parked outside the parking place. We noticed this when we left. Matěj was awakened so we let him get some fresh air (carrying him in back carrier). On the other hand we managed to manipulate to park no the wrong parking place even the Norwegian grandma with her granddaughter. Which we are proud of.
After a short break we continued our journey reaching to the destination Rjukan. Any vacation in our family can't be without any confusions and some rumors during finding our accommodation. This time it took only 45 minutes full of love and understanding.
Anyway, after we finally arrived to our apartment, we ware really happy – the apartment was in very nice old-fashioned Norwegian style with original classic kitchen from 90s, which we saw in Oslo Folksmuseum. And what is important. At the bathroom is a BATHTUB. That was we were looking for! This is the thing we are missing in Oslo (after all the family of course) the most. The main difference is that we can still be in touch with our family members but you know. You can't make a bathtub from the shower.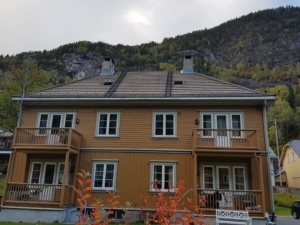 After we unload all our baggages. We dressed up and went for some walk around. We have already behold on our way that some houses that we saw in Oslo Folksmuseum as a precious unique thing, in Rjukan are those things everywhere. Only new colors and satellites ware added to those houses. So now, they can watch Netflix at all the time.
A little demonstration how Petr fell in love with local power station and was enthusiastically explaining us how everything works:
We finished this beautiful day with a good dinner and by planning what we are gonna do the day next. We ware little bit surprised that we find out the whether forecast. It should be snowy. Our fancy car – Nissan Note isn't 4×4 and doesn't have winter tires. And Matěj has only summer slippers to shine the passing women. Anyway, that was done after 22:00 when Matěj was finally fall asleep. He was only sitting in the baby seat or carrying in the back carrier the whole day .
Day 2
The next morning we woke up into a not perfect weather. It was cold outside. Weather app shows us temperature about 0 degrees. What was going behind our windows was forcing us to go back to the bad. Unfortunately there was one person who was forcing us to stay awake. Thank God, he woke up at 8:00 at least.
We did the breakfast. Mum and dad inhaled a few ibuprofens, streusels and some kind of other anti-flu drags. We went to the local city centre. It contents about 10 houses. We had to buy something for Matěj's feet because from the yesterdays walk he had almost frozen feet. And it should be snowy today.
We bought a comfortable merino socks and warm fluffy sleeves. We decides to buy new boots when we arrive to Czech. The price 1000 NOK seems to be little bit more than we expected and according to how fast Matěj is growing. He would have use it only for few months. So it seems to be useless to us.
It started to rain more and more. We returned back to our home, made some coffee (and some paracetamol and drank a pint of tea. When the weather was becoming to be more calm we sat to the car and drive to a Norsk Industriarbeidermuseum. It should be a pride of the city.
Petr's sick eyes was sparkling again. From afar it looks totally great. The admission was 100 NOK/p. Little kids like Matěj, they are for free of course.
This museum specific because it has produced "Heavy waterů since 1911. It was under control during the World war II, when Norway was occupied by Germans. The heavy water should be used for atomic bomb that germans wanted to discover faster than Allies. However thanks to sabotage action of local people and Englands, Germans decided to remove heavy water back to Germany. The rebels sinked the ship on the lake Tinnsjo. It wasn't far from us.
After our visit of this museum we thought we should take some fresh air and go for a walk. The fog has finally become to break the sky. Unfortunately the mountains peaks was still hidden. So our plan to take the cable car and go up, was broken. So we went further by car to drive around the mentioned lake Tinnsjo.
Matěj has fell asleep and slept for hour and half. We ware glad that have a relaxing moment together without constant attention. But on the other hand we can't go anywhere. We can't let him in the car alone. So we drove around the lake and enjoyed the views on the lake.
On the way back we decided to take a drive to Rjukanfoss 100m long waterfall. But no matter where we watch, we saw only a bare rock with river basin in the middle. Until now we still don't know if it was the rest of the waterfall or if it is on the other side of the mountain or hidden somewhere in the fog. Well, we will see tomorrow.
The baby was becoming to wake up. We bought some items for cooking dinner and drove home. The weather forecast showed us coming rain again.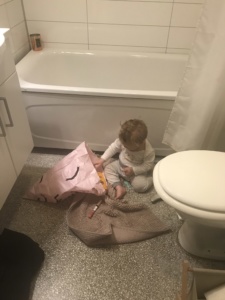 Day 3
We had a big plans for this day. It should be the best weather and we hoped we could be healthy. It was probably the best day but our healthy wasn't good. We constantly complained for whole night about how bad we are. Thank God, the kid is still good and obviously happy (knocking on the table for good luck).
In the morning before breakfast I went to the pharmacy. I have to buy drug supplies like Strepfen and Listerin for our throat ache. We packed up our stuff like stroller, bag, 3 winter jackets to our small car.
First stop was Krossbanen. Where we would to go to Gvepseborg and from there walk to the famous national park Hardangervidda. We bought a ticket for 100 NOK per person a went up. There were very nice view even from the cabin. Matěj was in his stroller, but it was a big mistake :(.
It was a terrible wind on the top, but getting to be warmer. We went for a walk to Hardangervidda, just for a short walk. Unfortunately our stroller (Matěj fell asleep immediately), was a bit of limitation for us because most of the paths contained a long steps. It is not suitable for a family with stroller.
So we chose the way of least resistance. We went just there, where was no steps until it ends, than we return back. The path was to uphill, so (we were still too ill), we ware really over breathed like a racehorse. However, despite the fact our ambitious was much higher, we did very interesting treks. We both were totally satisfied. Whole the way back we were still watching around and took some pictures. We said: "So, this is the Norway, thats everyone talks about". If we wouldn't have Matěj with us (we are happy to have him with us, of course), we would be able to walk around for whole days. On the other side of the mountain was smiling  Gaustastoppen at us. We ware preparing for him for tomorrow afternoon.
On the way back we stopped in renowned (only one) café with a beautiful panoramic views on the mountains around in  Gvepsengorg panorama cafe. We bought a deserved coffee, had some rest for a while on outside terrace. We drank a coffee and looked around. Matěj had some time to be on all fours so he was satisfied too.
We have planed a way to visit waterfalls during afternoon. But as it is our custom, we have not found any waterfall. Despite being on the map :). The way around was even more better than the waterfall themselves.
We made our own lunch at home and took some drugs and ginger tea. It was necessary to made us stronger because the next stop was already mentioned Gaustatoppen.
There was a beautiful trek up to the top of the Gaustatoppen. But due to our sickness it was safer to take the cabin. The cabin costed 380 NOK per person. We ware up in 15 minutes. Matěj worn his new gore-tex outfit to be warm at the top. We ware a bit disturbed that all those who was passing by, worn polar equipment. We were expecting the snow a bit above. Even without gloves, we did it.
We climbed up and was enjoying the blowing breeze and drinking a tea. Matěj was satisfied in the back carrier and was just screaming around.
We liked the surrounding so much that we didn't want to return back home, so we continued the drive and was just looking around. There were very nice nature.
Day 4
Our last day :). Unfortunately, the time was absolutely irreversible, so we had to pack our stuff to car. We have enough things! We took the last bath and drank the last ginger teas.
We chose the way back to Oslo through Skien. It was recommended by our Norwegian guide. The journey  from Rjukan to Skien took about hour and half. As it is in Norway, the surroundings area is beautiful. We turned on the music and was just silently looking out from the windows. We have been constantly alert to a dangers of reindeers. I was so excited and hoping to see them. Not one :(. Matěj fell asleep with the ignition of engine. He probably got this habit from the flights. Maybe this car remains him. Nissan Note rules!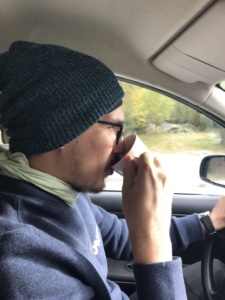 I won't want to lie, Skien disappoint us. Maybe its because we came out of the season. Everything was so dark without any drops of happiness :). Such Azkaban after Norway.
Anyway we learned a few things about it. This is a town where Henrik Ibsen was born. Whose name we already heard during our stay in Bergen when we visited Troldhaugen – where Edvard Grieg lived. Its lot of famous names here, isn't it? We had to listen a song Peer Gynt to find out what is that 🙂
We made a short walk in Skien, bought some coffee and sat in children's park, where Matěj discovered local trampoline.
From Skien we reached directly to our home to Nydalen. Not because there wasn't anything interesting on our way back but it took another 1,5 hours and Matěj (and us with him in the car) did not really enjoy it. We thought it would be better to be at home earlier and let him play a little bit longer with toys at home.
In conclusion we would like to mention the following:
The Czech books of history are full of bulls, but nobody has never told us about how heavy water was being used in Rjukan and how during the WW2 the Norwegian resistance was detonated on the ship in order for the Germans to no longer use it.
The Gaustatoppen is full of people with polar equipment etc. gloves, hats and warm shoes.
What is unique in Oslo Folksmuseum is standard in the villages around Rjukan. People has similar houses on their gardens.
In even slightest fuck of Norway, you can pay by card.
It is not good to take a stroller to a trek even if the guide tell it is Family Friendly. The steps are everywhere. Many steps.
Nissan Note – groves like a plane but never take off.
If you can not go to Gaustatoppen by walk do not be hesitate to take the cabin. Its worth it.
Did you know that there are some places on the planet where the sun is not shining at all? In Rjukan was necessary to set the mirrors from the hills to shine to the downtown.
Please follow and like us: